Whisky & Food Pairings – mit Rezepten
Whisky ins Essen? Nein, sondern Whisky zum Essen. Ich durfte schon öfters Menüs mit begleitenden Whiskys probieren und auch Spezial-Tastings mit Käse oder Schokolade sind eine interessante Sache. Tomatin verrät uns nicht nur die passenden Gerichte, sondern auch die Rezepte zum Nachkochen.
Die Rezepte funktionieren sicher auch mit anderen Whiskys. Die meisten Köche und Whisky-Spezialisten versuchen Aromen in beiden Welten miteinander zu kombinieren oder nachzuahmen. Die Summe ist dann in der Regel mehr als die Einzelteile. Weitere Anregungen findet Ihr auch in meinen Artikeln:
Tomatin Food Pairings
Am 22.09.2016 haben sich Tomatin mit der Köchin Jacqueline O'Donnell zusammengetan und in ihrem Sisters Restaurant in Glasgow ein mehrgängiges Menü den Gästen serviert. Graham Eunson, Distillery Manager von Tomatin, hat die korrespondierenden Whiskys zum Essen beigesteuert. Die Rezepte machen Appetit. Beim Starter ist auch Whisky IM Essen.
Dieses 4-Gang-Menü wurde den Gästen präsentiert – und nein, ich war leider nicht dabei:
Starter: Cured Scottish Trout paired with Tomatin 12yo
Main: 5 spice Scotch lamb rump with spiced toasted hazelnut and Tomatin Cask Strength
Dessert: Scotch raspberry with dark chocolate chilli tart and a Tomatin 14yo
Cheese: Barwheys cheddar and homemade oatcakes coupled with a dram of Tomatin 18yo
Graham Eunson kommentierte das Pairing: "The world of food and whisky is becoming increasingly more entwined as the vast range of flavours and styles of malt offer room for experimentation, and the growing number of chefs opting for whisky as a serious alternative to wine is really encouraging.  Over the past year we've worked hard to reach different audiences with new look packaging and our recent cocktail range so we hope that this latest venture will continue to attract more customers to Scotch by revealing its versatility and affinity to food."
Und Jacqueline ergänzt: "The complexity of our national drink means that often it can unlock more flavours than wine when paired with the right food from our natural Scotch larder. Great food and whisky have always been a perfect combination and the light, fruity characteristics of Tomatin lend well to pairings. As Scotland's main export, we wanted to showcase the diversity of the spirit alongside a medley of local produce to offer a mouth-watering and authentic experience for our guests."
Diese und einige weitere Rezepte findet Ihr auf der Homepage von Tomatin unter FOOD – gleich neben den COCKTAILS. Bei den Rezepten findet Ihr auch noch zwei weitere:
Main: Asian slow cooked ham hough with slaw & brioche coupled with 1988
Dessert: Roast spiced pineapple with liquor ice cream and Legacy
4-Gang-Menü zum Nachkochen
(alle Rezepte und Bilder sind von Tomatin)
Starter: Cured Scottish Trout
Cured Scottish trout in 12 year old Tomatin served in a refreshing salad of crispy native apple & ginger
4 x 120gr Trout fillets pin boned & skinned
2 cox pippin or Braeburn apples
2" knob of fresh ginger grated
1 box of watercress
1 x 25ml Tomatin 12yr old malt
1tbsp Summer harvest rapeseed oil
Mix 25ml of ginger juice with 25ml malt & set aside
Cut apples with skin on into julienne
Toss apples & watercress in remaining ginger juice with rapeseed oil
Season very slightly with sea salt
10 minutes before serving pour ginger/malt mix over trout fillets
Serve salad mix in bowl and lay cured fillet over the top
Main: 5 spice Scotch lamb rump with spiced toasted hazelnut
5 spice Scotch lamb rump with spiced toasted hazelnut on Asian greens and a glazed sauce with a dram of cask strength
Hazelnut Dukkah
400gr chopped skinned roasted hazelnuts
300gr sesame seeds toasted
6tbs coriander seeds
4tbsp garlic powder
6 tbsp cumin seeds
4 tbsp cracked pepper
3tbsp hebridean sea salt
Scotch Lamb rump 4 x 200gr individual portions
4tbsp Summer harvest rapeseed oil
250gr A selection of Scottish greens & vegetables
250gr local potatoes
1ltr lamb stock
25ml Tomatin Cask Strength
Oven 200c
Ask butcher to prep 4 individual lamb rump portions
Mix 1tbsp of oil with 2 tbsp hazelnut dukkah and rub over lamb then seal in a pan place in oven for 20 mins
Half potatoes and place in the pan in the oven with the lamb for 10 mins
After 20 mins remove lamb from oven and leave on a tray to rest for 15 mins
Meanwhile cook the greens quickly in the lamb pan before making the sauce
Take lamb stock and pour into to lamb pan & reduce by 2/3
Season sauce to taste and add malt at the last minute before serving
Place potatoes on a plate along with the greens then add sliced rump over the top, spoon some gravy  & sprinkle with more crust for some crunch.
Dessert: Scotch raspberry with dark chocolate chilli tart
Scotch raspberry and dark chocolate chilli tart with a clotted cream ice cream paired with 14 year old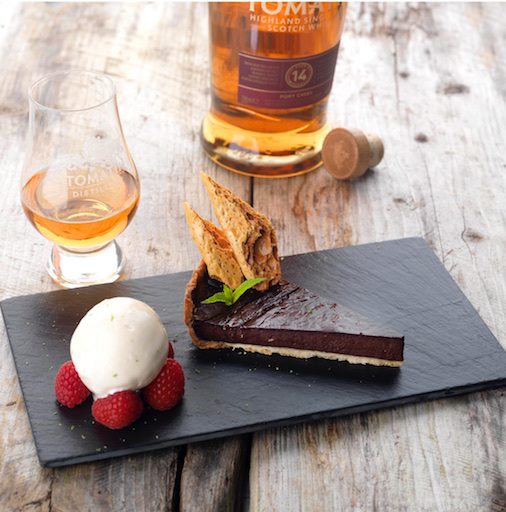 Pastry case
250g of plain flour
100g of icing sugar
35gr ground almonds
125g of unsalted butter, plus more for greasing
1 egg & 1 egg yolk
Chocolate and chilli filling
400g of 70% dark chocolate, roughly chopped
350ml of double cream
3/4 tsp chilli flakes
150ml of milk
2 eggs, beaten
To begin the chocolate tart, prepare the pastry case. In a mixing bowl, crumb the flour, icing sugar, ground almonds and butter together
Add 2 eggs and blend together, handling as little as possible, until just mixed. Wrap in cling film and rest the pastry in the fridge for 1 hour
To begin the filling, heat the double cream and milk to the boil, then add the chilli flakes. Remove from the heat and leave to infuse for 1 hour
Grease and line your tart ring. Roll out the pastry to 3mm thick. Push the pastry into the corners evenly and then line with baking parchment before filling with baking beads.  Blind bake at 190˚C/gas mark 5 until the pastry is lightly golden, around 10 minutes. Remove the baking beads and return to the oven in order to colour the base until the pastry is golden brown, around 10-15 minutes
After removing the pastry from the oven, use a pastry brush to glaze it with the remaining egg yolk. This will seal the case for the chocolate mixture
To make the chocolate mixture, place the chocolate in a medium-sized mixing bowl. Strain the infused chilli cream and bring back to the boil. Once boiled, pour the hot cream over the chocolate and stir until the chocolate has fully melted. Slowly add the beaten eggs and mix well
Preheat the oven to 150ºC/gas mark 2. Pour the mix into the prepared pastry case and carefully transfer to the oven. Bake until the mix is just set, approximately 15-20 minutes. Allow to cool but do not refrigerate
Served with Clotted cream ice cream & Scottish raspberries with Honeycomb spikes
Cheese: Barwheys cheddar and homemade oatcakes
Barwheys cheddar with homemade oatcakes with celery, apple & a pear chutney coupled with our 18 year old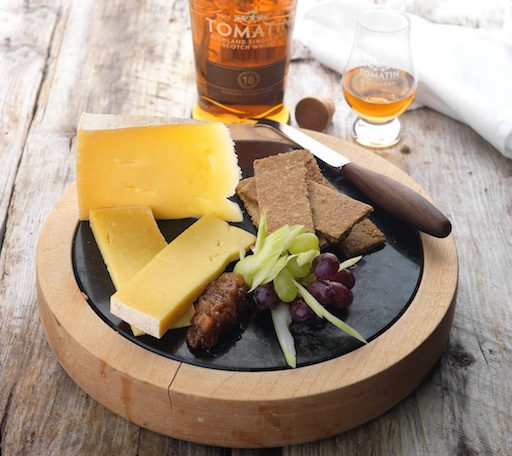 200gr Barwheys cheddar
225gr Oats
60gr wholewheat flour
½ tsp bicarbonate of soda
60gr butter
1tsp salt
60-80ml boiling water
Mix all ingredients together and shape into large rounds or squares for oatcakes
Bake at 180c Gas 5 for 20-25 minutes. They will come out of the oven crisp
Serve with celery sticks apple & pear chutney and a big chunk of Barwheys cheddar
Danke an Tomatin für die Rezepte! Ich habe jetzt erst Mal Hunger bekommen.