PR: Caol Ila Besucherzentrum 2022 nach Renovierung wieder geöffnet
Nun ist auch Caol Ila fertig mit der Renovierung und zeigt sich in neuem Glanz. Das neue Caol Ila Besucherzentrum ist nun deutlich mehr als nur ein Shop. Neben einer Bar gibt es nun auch "Storytelling Rooms" und eine "Flavour Tour". Wenn ich das richtig sehe, dann gibt es jetzt Parkplatz und Zugang vom Hügel hinter der Destillerie. Da muss ich dann wohl mal wieder vorbeischauen.
Im Überblick – das neue Caol Ila Besucherzentrum
Das neue Caol Ila Besucherzentrum (Visitor Center) hat gestern die Pforten für Besucher geöffnet und ist damit die vierte und letzte renovierte Destillerie, die zu den "Four Corners" also den vier Ecken Schottlands gehören und zusammen mit der Johnnie Walker Experience in Edinburgh das neue Johnnie Walker Brand Home darstellen.
Das Caol Ila Besucherzentrum wurde komplett renoviert
Wiedereröffnung war am 25.08.2022
Teil des Renovierungsprogramms von Diageo – die bisher siebte fertige von 12 Besucherzentrum Renovierung
Darüber hinaus werden in diesem Program auch zwei Destillerien wieder eröffnet / reanimiert:

Brora (seit 07/2021)
Port Ellen

Drei neue Touren werden im Caol Ila Besucherzentrum angeboten (TOUR Website):

FLAVOUR JOURNEY TOUR
SPIRIT OF SMOKE: CASK DRAW & TASTING
TASTE OF ISLAY
Hier findest Du Bilder von meinem Besuch vor der Renovierung mit dem alten Caol Ila Besucherzentrum: The Ultimate Islay Tour – Lagavulin, Caol Ila und Maltings
Zur Feier wurde wie bei den anderen drei Destillerien auch eine Sonderabfüllung kreiert:
Caol Ila Four Corners of Scotland, 14yo, 3.000 Flaschen, 53%, 150.- GBP, Distillery Only
Die Abfüllung ist nur vor Ort erhältlich.
Tasting Notes von Charles MacLean
"An interesting Caol Ila, starting gently then quickly blossoming into full distillery character."
In a sentence: This delicious Caol Ila expands on all the expected characters; coal-tar and bonfire aromas, a firm, crisp taste, sweetness turning to salt, and a pleasing finish with charred smoke. 
Appearance: Bright 18 carat gold. Exceptional beading. 
Nose: Mellow in feel, with light prickle. Clean and fresh throughout, with vaguely medicinal notes and the faint smokiness of an extinguished beach-bonfire always there behind them. The first impression is mildly medicinal, as with the aroma of an antiseptic cream. An elusive pastry note lies beneath on a base of freshly laundered linen. The medicinal notes increase in the development, then subside with water, which brings out a note of damp wool, like a freshly washed jumper. 
Body: Medium. 
Palate: A smooth texture and a sweet start; clean, noticeably smoky and leaving a trail as clear as a lit gunpowder fuse. A shake of salt for balance. The taste becomes sweeter with a splash of water, no more, when there is also light acidity and more salt. Surprisingly mild, compared to the taste at natural strength. And delicious. 
Finish: Long and pleasantly hot, while a last lightly charred, spicy note lingers in the aftertaste. With water, the heat subsides, and the spiciness lingers. 
(Pressemitteilung, Diageo / Story PR)

Diageo opens Caol Ila Distillery marking completion of Four Corners of Scotland investment
25.08.2022 – Diageo has today unveiled the new visitor experience at its Caol Ila Distillery on the Isle of Islay, the world's most famous whisky island, following a multi-million pound transformation.
Boasting panoramic vistas of the neighbouring island of Jura, a modern retail space, a bar with floor to ceiling windows, and immersive storytelling rooms bringing to life Caol Ila's history and craft, the visitor experience is a world removed from the traditional distillery tour offering.
Four years in the making, the new visitor experience is the seventh of Diageo's whisky brand homes to be reimagined as part of the company's £185 million investment in whisky tourism. It also completes the transformation of the four distilleries, Glenkinchie, Cardhu, Caol Ila and Clynelish, which are recognised as key ingredients in the Johnnie Walker blend.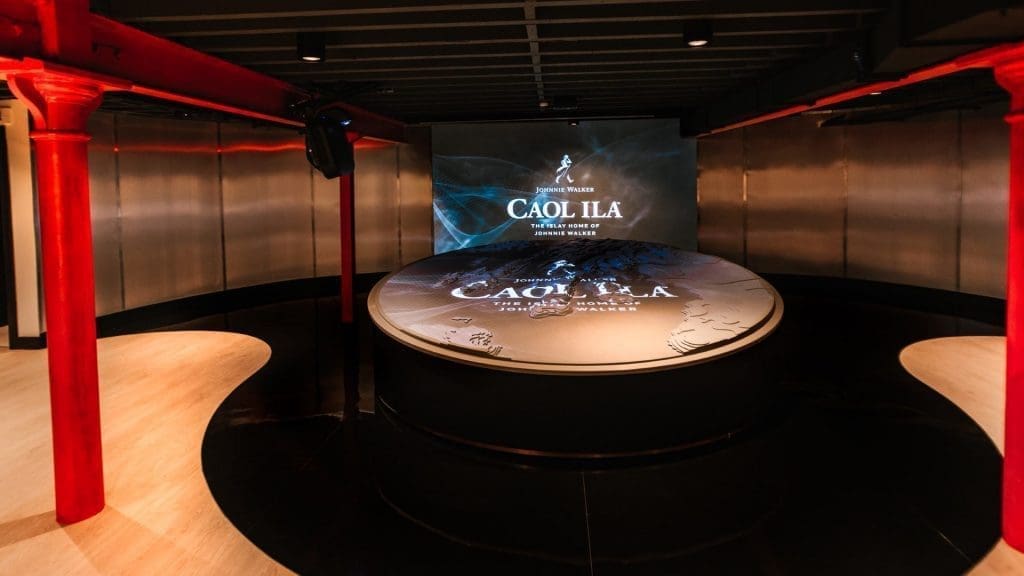 In July, Diageo reported that global Scotch organic net sales grew 29% year-on-year with double digit growth across all regions and Johnnie Walker was up 34%.
Caol Ila means Sound of Islay in Gaelic and to celebrate the reawakening of the distillery's visitor experience, Mercury Prize shortlisted Scottish musician Fergus McCreadie performed a specially created piece of music in front of the distillery's incredible panoramic views.
Barbara Smith, Managing Director of Diageo's Scotland Brand Homes: "Caol Ila is the last of our reimagined brand homes to be unveiled and it's truly something special. Islay is known around the world for its whisky and we've ensured that our visitor experience not only tells the story of the Caol Ila brand but also the major role whisky plays in the island's history. The new building will offer something new and unique to visitors and also to locals who will be able to come for social occasions or just to simply enjoy the stunning views. We look forward to welcoming people from near and far now that our doors are officially open."
Along with Diageo's other 13 visitor experiences in Scotland, Caol Ila holds a Green Tourism Gold Award – the highest sustainability accolated for a visitor attraction.
Caol Ila Distillery Launches Four Corners of Scotland Bottling
Islay distillery, Caol Ila, whose name is the Gaelic for 'The Sound of Islay' is proud to release a limited-edition expression to celebrate the opening of its brand-new visitor experience.
Caol Ila is the fourth and final distillery to undergo a major transformation as part of Diageo's £185 million investment into its Scotch whisky visitor experiences in Scotland. As one of the Four Corners distilleries, it's Caol Ila's signature smoky smoothness that can be found in every bottle of Johnnie Walker, as it continues to play a crucial role in the whisky's blend.
The Caol Ila distillery exclusive is a beautiful celebration of the distillery's character, exclusively matured for 14 years in American Oak refill casks and freshly charred American Oak casks. With additional spicy, creamy and sweet notes coming through from the recharred casks, this cask-strength whisky expands on all the expected characters found in Caol Ila, with bonfire aromas and a crisp taste, turning sweetness into salt to deliver a charred smoke finish.