PR: Bunnahabhain 12yo bald auch in Fassstärke
Gute Neuigkeiten für alle Bunnahabhain 12yo Fans: den wird es bald auch in Fassstärke geben! Wie heute angekündigt wurde, wird es eine jährliche Edition geben. Diese wird auch nach Deutschland kommen.
Im Überblick
Bunnahbhain 12yo Cask Strength, Batch 01, 2021, 55.1%, RRP 75.- GBP
Die neue Abfüllung Bunnahabhain 12yo Cask Strength wird auch nach Deutschland kommen, d.h. es muss jetzt keiner hektisch im Onlineshop bei Bunnahabhain bestellen. Angekündigt wurde die Abfüllung für den 18.11.2021 – also wendet Euch gerne an den Händler Eures Vertrauens. Ich würde das zwar BATCH STRENGTH nennen, denn es dürfte mehr als nur ein Fass abgefüllt worden sein, aber da scheiden sich die Geister bzgl. der korrekten Bezeichnung.
Hier kannst Du einen virtuellen Rundgang durch die Destillerie machen: Distillery-Tour Bunnahabhain.
(Pressemitteilung, Bunnahabhain/JohnDoeHub)
Bunnahabhain launches Cask Strength 12 Year Old inspired by Warehouse 9
Bunnahabhain has announced an annual-edition cask strength 12 Year Old whisky inspired by visitor tastings in the distillery's iconic 'Warehouse 9'.
For years, visitors making the pilgrimage to Bunnahabhain have been enjoying drams straight from the cask in the famous Warehouse 9, so now fans from all over the world will be able to recreate this experience at home.
Matured on the remote, north-eastern coastline of Islay, and produced using pure spring water from the Margadale River, the 12 Year Old Cask Strength is an undiluted celebration of the distillery's hugely popular Bunnahabhain 12 Year Old expression.
Each year will see a new annual release of 12 Year Old Cask Strength that celebrates the Bunnahabhain spirit's character, with the 2021 edition bottled at 55.1% ABV.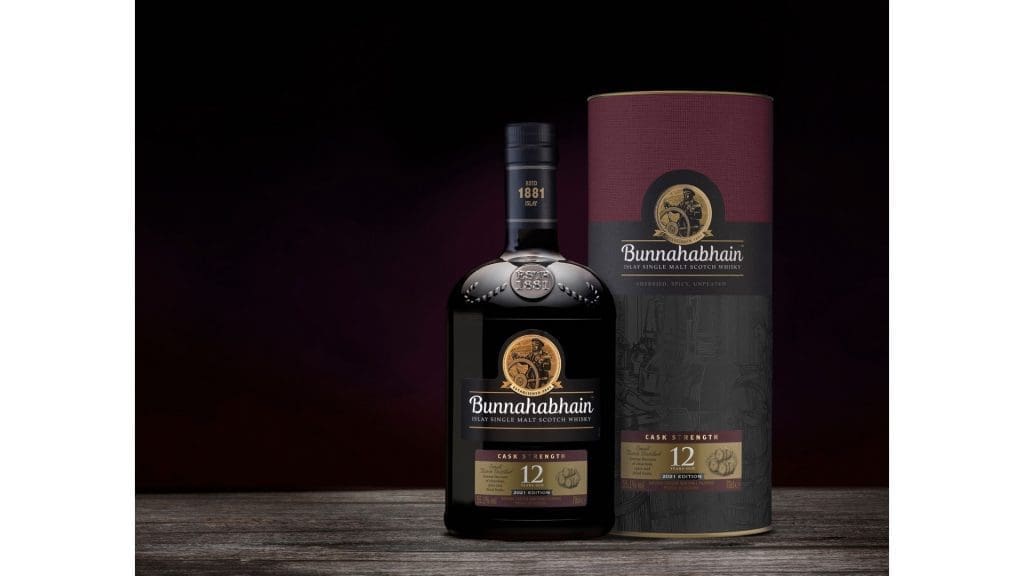 Brendan McCarron, Bunnahabhain's Master Distiller, said: "When people embark on a journey to Islay and try our whiskies straight from the cask, it creates so much joy. But we understand that not everyone is able to make the trip. With this annual Cask Strength 12 Year Old Cask release, we can give people around the world the chance to experience it themselves." 
The robust and complex spirit delivers unpeated, oily notes of dried fruits and cereal, followed by caramel and vanilla on the palate. At 55.1% ABV, it can either be enjoyed neat or with a few drops of water to encourage more floral aromas.
McCarron continues: "Not all whiskies work at cask strength and many whiskies don't stand up to full maturation in sherry casks. Bottling our 12 Year Old at cask strength intensifies the core characteristics of spice, cracked black pepper and cinnamon, but not at the expense of our spirit's character. In fact, it enhances it. The mouthfeel and texture of the whisky increases and it shows off the balance of the spirit and the wood, but in a more concentrated form. This really represents Bunnahabhain in a bottle." 
Bunnahabhain's 2021 edition Cask Strength 12-Year-Old will be available from November 18th with an RRP of £75 and will be available in nine international markets.