Gewinner der Whisky Magazine Awards 2016 – Bester Single Malt
Die Ergebnisse der Whisky Magazine Awards wurden heute bekannt gegeben. Gestern Abend fand die feierliche Verleihung statt und nun gibt es auch wieder einen "Besten Single Malt", der vom Whisky Magazine gekürt wurde. And the winner is…
Der beste Single Malt Whisky kommt dieses Jahr von der Pulteney Distillery (Old Pulteney Vintage 1989) und die beste Single Cask Abfüllung von Kavalan (Solist Amontillado Sherry). Weitere Auszeichnungen gab es u.a. auch für PUNI ALBA (Design), Douglas Laing (Brand Innovator), Dr Bill Lumsden (Master Blender) und Simon Brooking (Scotch Whisky Brand Ambassador).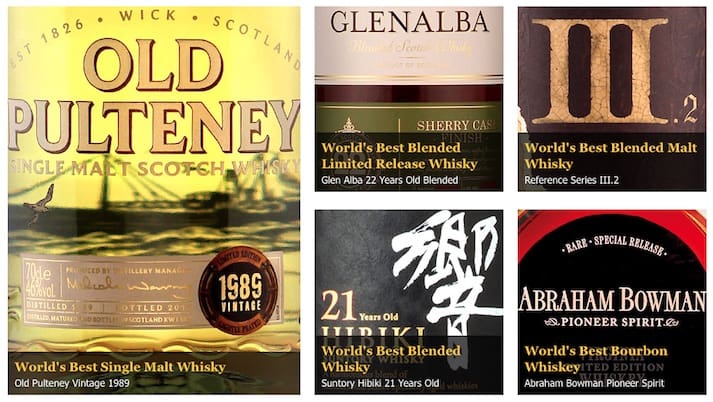 Allen Gewinnern: herzlichen Glückwunsch!
In der folgenden Pressemitteilung findet Ihr die vollständige Liste der Gewinner. Die Sponsoren habe ich aus der Liste entfernt, denn jede Kategorie und jede Nominierung hat einen Sponsor. Diese könnte Ihr bei der offiziellen Liste des Whisky Magazines nachlesen.
Und hier noch eine Reaktion von Old Pulteney Senior Brand Manager Margaret Mary Clarke: "This is a wonderful win for everyone at Pulteney Distillery and we couldn't be more proud to have our 1989 Vintage recognised as the world's best single malt. When we released the whisky last year it was a real hit with whisky enthusiasts and Old Pulteney devotees, who already recognise the quality and character of our full range of fine single malts. Last night's award is another great testament to the dedicated Distillery team up in Wick whose passion and skill for creating incredible malt whiskies continue to be recognised around the world."
(Pressemitteilung, Whisky Magazine)
Old Pulteney, Dr.Bill Lumsden, Heaven Hill Brands and John Teeling among the winners of the top Whisky Magazine Awards
The finest products and individuals were celebrated at Whisky Magazine's most prestigious awards ceremony at the Grand Connaught Rooms in London on Thursday 17 March 2016. The Managing Editor of Whisky Magazine, Mr Rupert Wheeler, co-hosted a dinner for the industry alongside comedian and presenter, Fred MacAulay, Whisky Magazine Contributor, Joel Harrison and TheDrinksReport Editor, Felicity Murray. Guests made the journey from as far as Japan, Taiwan, Australia and America to join the celebrations. The evening began with the presentation of the Icons of Whisky, followed by the World Whiskies Awards and concluded with the Hall of Fame.
Mr Wheeler says: "This year has seen a record number of entries into our World Whiskies Awards and the Icons of Whisky continue to grow with the addition of new categories. I was delighted to have met so many guests last night, all of which make the whisky industry a pleasure to be a part of. The evening went extremely well and I would like to take this opportunity to thank the judges and sponsors of all of our awards. We look forward to doing it all over again next year."
– THE RESULTS –
World Whiskies Awards 2015, Chairman – Mr Neil Ridley
Taste
World's Best Single Malt: Old Pulteney Vintage 1989
World's Best Single Malt Single Cask: Kavalan Solist Amontillado Sherry
Single Cask Strength
World's Best Blended: Suntory Hibiki 21 Years Old
World's Best Blended Limited Release: Glen Alba 22 Years Old
World's Best Blended Malt: Reference Series III.2
World's Best Bourbon: Abraham Bowman Pioneer Spirit Port Finished Bourbon
World's Best Single Barrel Bourbon: Smooth Ambler Old Scout
World's Best Canadian Blended: Gooderham & Worts Four Grain
World's Best Grain: The Fuji-Gotemba Distillery Single Grain 25 Years Old Small
Batch
World's Best Corn: Balcones True Blue 100 Proof
World's Best Rye: Pikesville Straight Rye
World's Best Wheat: Bernheim Original Kentucky Straight Wheat Whiskey
World's Best Single Pot Still: Green Spot Château Léoville Barton
World's Best Flavoured: Knob Creek Smoked Maple Whiskey
Design
World's Best Whiskies Design: PUNI ALBA
World's Best Design Agency: Pocket Rocket Creative
Distiller of the Year: Heaven Hill Brands
Brand Innovator of the Year: Douglas Laing & Co
Visitor Attraction of the Year: Teeling Whiskey Company
Craft Whisky Producer of the Year: Westland Distillery
Master Distiller / Master Blender of the Year: Dr Bill Lumsden, The Glenmorangie Company
Distillery Manager of the Year: Koichi Nishikawa, Yoichi Distillery
American Whiskey Brand Ambassador of the Year: Bernie Lubbers, Heaven Hill Brands
Irish Whiskey Brand Ambassador of the Year: John Quinn, Tullamore D.E.W.
Scotch Whisky Brand Ambassador of the Year: Simon Brooking, Beam Suntory
World Whisky Brand Ambassador of the Year: Ashok Chokalingam, Amrut Distilleries
Visitor Attraction Manager of the Year: Stuart Cassells, The Famous Grouse Experience
Multiple Outlets Retailer of the Year: La Maison du Whisky
Single Outlet Retailer of the Year: Celtic Whiskey Shop
Online Retailer of the Year: Master of Malt, www.masterofmalt.com
Travel Retailer of the Year: DFS Group, Changi Airport (Singapore)
Supermarket the Year: Sainsbury's
Hall of Fame
Chairman – Mr Damian Riley-Smith
Inductee 33: Max Shapira, Heaven Hill Brands
Inductee 34: Chris Morris, Woodford Reserve (Brown-Forman)
Inductee 35: Koichi Inatomi, University of Glasgow
Inductee 36: John Teeling, The Great Northern Distillery
For the complete list of inductees, visit halloffame.whiskymag.com. The awards issue of Whisky Magazine, Issue 134, is out now.