Neu: GlenDronach Batch 13 mit ältester Abfüllung aus 1968
Und wieder gibt es ein neues Batch von GlenDronach Single Casks. Dieses Mal mit einem besonders alten Vertreter: 47yo aus 1968. Der bisher älteste GlenDronach überhaupt!
Das sind die neun neuen:
1968 cask # 5837 / 47 years old / Pedro Ximenez Sherry Hogshead / 45.9% vol.
1991 cask # 2361 / 24 years old / Oloroso Sherry Butt / 53.1% vol.
1992 cask # 76 / 23 years old / Oloroso Sherry Butt / 52.0% vol.
1993 cask # 40 / 23 years old / Oloroso Sherry Butt / 58.5% vol.
1994 cask # 3274 / 21 years old / Pedro Ximenez Sherry Puncheon / 53.1% vol.
1995 cask # 3047 / 20 years old / Pedro Ximenez Sherry Puncheon / 48.6% vol.
2002 cask # 4651 / 13 years old / Pedro Ximenez Sherry Puncheon / 54.8% vol.
2003 cask # 930 / 12 years old / Pedro Ximenez Sherry Puncheon / 53.4% vol.
2004 cask # 5521 / 12 years old / Pedro Ximenez Sherry Puncheon / 57.3% vol.
Die Abfüllungen werden demnächst im Handel erhältlich sein. Leider kenne ich noch keine Preise aber günstig werden die sicher nicht. In der Pressemitteilung findet Ihr auch zwei Tasting Notes.
(Pressemitteilung, GlenDronach)
A marvel celebrating a bygone age: GlenDronach's oldest-ever release in latest batch of single cask bottlings
In 1968, Harold Wilson was the British Prime Minister, the film 2001: A Space Odyssey was released and the Beatles were top of the charts with Hey Jude.
Also that year, GlenDronach cask number 5837 was filled with Highland spirit, laid down and left to mature in a quiet corner of the Aberdeenshire distillery.
Almost half a century later, it is today (17 February) the glittering centrepiece of GlenDronach's latest batch of rare single cask bottlings…as it is their oldest-ever release with just 301 bottles filled from the cask.
"This marvel is an amazing, venerable and exceptionally rare whisky," says Master Blender Billy Walker, "and it is sure to become one of our most sought-after bottlings. We only have a few casks of the legendary 1968 vintage left in our inventory and they are extraordinary survivors from a golden, bygone age of whisky production. Today we are thrilled and delighted to present this remarkable expression in Batch 13 to our customers worldwide."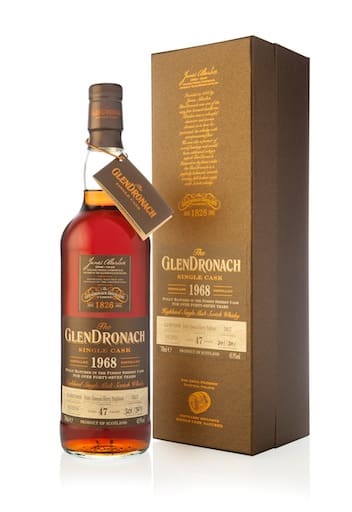 The 47 years old heavyweight is, in appearance, dark oak edged with rich crimson. On the nose, intense, full-bodied aromas of dark treacle, sour plums and rich prune syrup combine with fragrant herbal notes and faint cigar smoke. On the palate, an impactful sherried character is laden with dark prunes and molasses while a torrent of vibrant orange bitters and dark espresso holds hints of eucalyptus and pine needles.
Eight other spectacular malts are included in Batch 13. They all share GlenDronach's robust and richly-sherried signature taste complemented by mouth-watering notes of treacle, plums, apricot, figs, damsons and currants…even with intriguing hints of red chilli, chocolate raisins and vintage leather!
As a contrast to the 47 years old, the youngest is a zingy 12 years old from cask number 5521, at 57.3% vol. On the nose, dark fruit cake infused with hints of stem ginger syrup, orange bitters and notes of toasted walnuts. On the palate, sumptuous depths of sweet dates and ripe figs hold a crisp oak and herbal balance complementing the rich sherry character.
All nine are presented in beautiful gift boxes.
Master Distiller Billy Walker added: "This is what aged sherry-matured whisky is all about – gorgeous colouring, luscious fruity aromas, rich sherry and dark chocolate flavours combining brilliantly to create sweet, gutsy and utterly memorable malts."