Douglas Laings Feis Ile Abfüllung 2016: ein OP Bowmore
Douglas Laing gibt die Sonderabfüllung für das Feis Ile 2016 bekannt: Old Particular Bowmore Vintage 1999. Mit meiner Mutmaßung, dass es ein Lagavulin wird, lag ich also falsch.
Old Particular Bowmore, Vintage 1999, 16yo, 246 Flaschen, 48.3%, ncf, nca, ca. 160.- EUR
ncf = no chill-filtration (keine Kältefiltration), nca = no color added (ohne Zusatz von Zuckerkulör)
Einige Flaschen werden wohl global in den Handel kommen, aber wie viele es nach Deutschland schaffen und zu welchem Preis, wurde noch nicht verraten – UPDATE: es werden nur 36 Flaschen nach Deutschland kommen und der Preis wird bei etwa 160.- EUR liegen.
Die restlichen "Feis Flaschen", die schon bekannt gegeben wurden, findet Ihr mit dem Programm hier: Feis Ile 2016 – Programme Online.
Und über die Feis Events von Douglas Laing habe ich hier berichtet: Douglas Laing Events auf dem Feis Ile 2016.
Original Tasting Notes
Fred Laing's tasting note features on the bottle's detail-rich front label as follows:
Nose: detect sea salt mingling with sweet smoke, summer fruits, brown sugar and vanilla custard.
Palate: shows a real barley sweetness, with flamed orange peel, cocoa, barbecued meat and old leather.
Finish: A long and luxurious finish shows a Malty character, with peat smoke, marmalade on toast and lingering spices.
(Pressemitteilung, Douglas Laing)
DOUGLAS LAING ANNOUNCES
OLD PARTICULAR BOWMORE VINTAGE 1999 – feis ile commemorative bottling
Douglas Laing & Co., World Whiskies Awards' Brand Innovator of the Year 2016, today announces its commemorative bottling for Feis Ile 2016: Old Particular Bowmore Vintage 1999.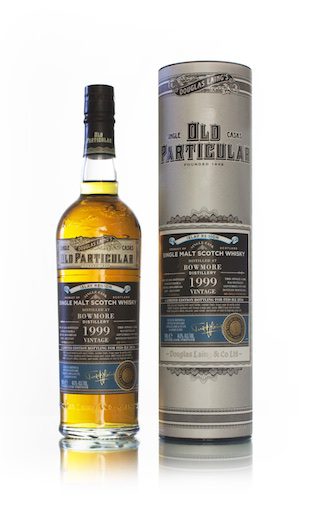 Just 246 bottles were charged from a single hogshead cask of Bowmore 16 Years Old Single Malt Scotch Whisky, which was distilled in September 1999 and bottled in March 2016. It is proudly bottled at natural cask strength of 48.3%, without colouring or chill-filtration, and is said to be "classically Islay" in character, displaying bold maritime, smoky and leathery notes on the nose, palate and finish.
Cara Laing, Director of Whisky at Douglas Laing & Co, comments: "The purpose of this Old Particular Feis Ile special bottling is to bring a taste of Islay to those who can't make the pilgrimage to the island. Bowmore Distillery is a personal favourite of mine and given its home is the capital of Islay, it made a lot of sense to select it for this commemorative release. We'll be tasting this Single Cask at a number of our Feis events around the island and it's an excellent example of an archetypal Islay Malt – maritime in style with leather and peat smoke."
Old Particular Bowmore Vintage 1999 will be sold on allocation to distributors in key markets globally.
Douglas Laing & Co announced Big Peat's first ever Feis Ile Limited Edition last week, as well as a partnership with Islay Ales to produce Big Peat's Cask Matured Ale.