Twitter Tasting: Balblair #FestiveTreats mit Schokolade
Heute fand ein Tasting via Twitter statt. Organisiert von Balblair. Gemeinsam mit anderen Bloggern und Whisky-Twitterern gab es drei Abfüllungen von Balblair zu verkosten: 2005, 1999 und 1990. Aber nicht nur Whisky sondern auch Schokolade!
Balblair, Vintage 2005/2015, 1st Release, 46%, ncf, nca, ca. 43.- EUR
Schokolade: White Lime & hint of Chilli Velvet Truffle
Balblair, Vintage 1999/2013, 1st Release, 1 Liter, duty free, 46%, ncf, nca, ca. 70.- EUR
Schokolade: Lemongrass & hint of Lime Velvet Praline
Balblair, Vintage 1990/2014, 2nd Release, 46%, ncf, nca, ca. 105.- EUR
Schokolade: Dark Velvet Truffle
ncf = no chill-filtration (keine Kältefiltration), nca = no color added (ohne Zusatz von Zuckerkulör)
Die drei habe ich schon ein Mal probiert. Den vollständigen Artikel mit Original Tasting Notes findet Ihr hier: Tasting: Balblair Vintage 2005, 1999 und 1990.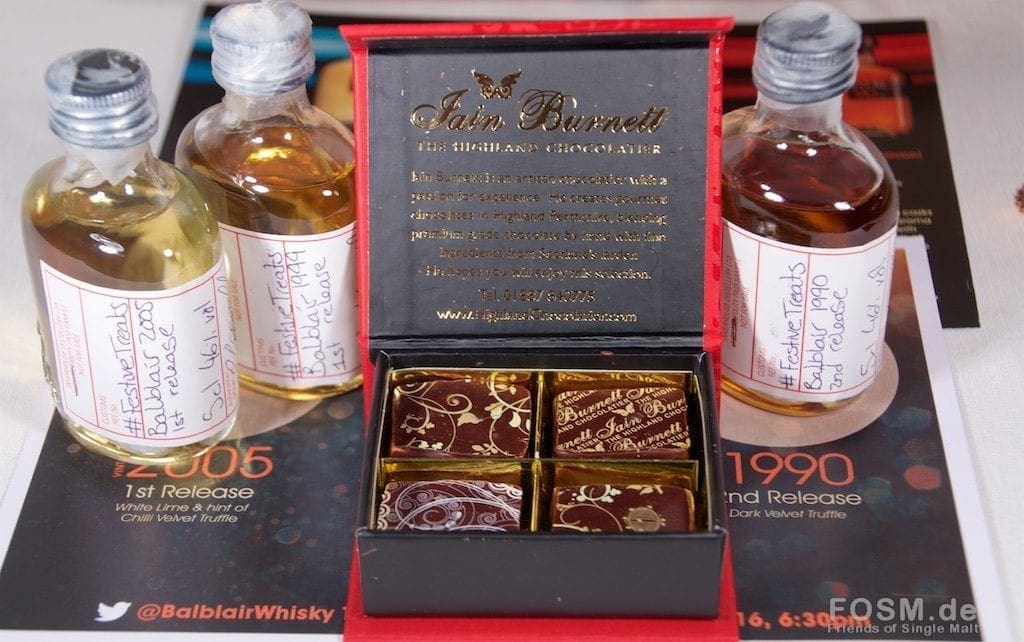 Heute geht es nicht nur um die drei Abfüllungen, denn mit den drei Proben hat mich auch korrespondierende Schokolade von dem Highland Chocolatier Iain Burnett erreicht.
Teilnehmer
The Whiskyphiles @TheWhiskyphiles, The Whisky Lady @the_whisky_lady, Pipes And Drams @PipesAndDrams, A Whet For Whisky @AWhetForWhisky, whisk(e)y @damian_murtagh, Sorren Krebs @ocdwhisky, Gentleman Grimm @GentlemanGrimm, Steve Prentice | SWB @steveprentice, Whisky Intelligence @whiskyintel, Rosemary Moon @moonbites, WhiskyCorner @WhiskyCorner, whiskyleaks @WhiskyLeaksfr und @MrSingleMalt (ich)
Spezialgäste waren: @anCnoc_whisky, @SpeyburnWhisky, @HankeyB1757, @OldPulteneyMalt, @BalblairJulie & @jgr141 und die Schokolade kam von @HighlandChoc
Tasting Notes
Wie immer gebe ich hier ein paar der Notes wieder, die von den Teilnehmern abgegeben wurden. Der Ablauf war: Farbe bestimmen, Nosing, Tasting, Schokolade (abbeißen und schmelzen lassen), noch Mal Tasting (gleich im Anschluß). [taste the whisky first, then bite of chocolate and let it melt on the tongue then another sip of whisky]
2005
2005: Matured in a combination of second fill American oak ex-bourbon barrels and dechar /rechar remade hogshead #FestiveTreats
Nose:
fresh, fruity and floral.. nice vanilla,toffee, caramel and milk chocolate. Apple,pear and cinnamon.. tantalising
fresh cut grass, vanilla pods, cereal malt, fruit salad
Aromas of apples, citrus and floral notes shine through for us. How about you?
Pineapple/ tropical fruit and spice
malty, buttery vanilla, light citrusy notes & something of springy vibe
certainly getting the green apples, orange etc. Feel I can just pick up marzipan as well underneath.
Fruity crisp green apples & pears, slightly woody, sweet syrup or honey, nougat & marzipan
also some delicate floral aromas of rose, jasmin & orange blossom
Lemon juice & sour goosberries, cooking apples & orange pith, before custard covered
pears, icing sugar & dried apricot
similar to the colour, i.e. it's bright, clear and sprightly. Damp autumn orchard of apples, sweet malt
fresh cut grass, vanilla, pear and some chocolate. Cereals. Some green apples.
Palate:
Bursting with toffee and honey sweetness complemented by oranges and vanilla
Initially spicy, slightly tannic, which was a surprise as the nose didn't suggest that, vanilla & malty sweetness
caramac bar, cooking apple, sharp like a frosty morning
Very zesty, there is the oranges and again the apples. Nice ans sweet way to start
Zesty citrus and sweet, orange and lemon, crisp apple, new oak wood, vanilla and white pepper
Sublime spiciness, cinnamon & ginger bringing a heat which provides the music for apricot, apples & pears to dance to
Chocolate:
indeed – very well matched with the lime and chilli truffle.
chocolate pairing matches well to the vanilla of the American Oak
Fresh citrus & creamy vanilla notes of this white ganache highlight the same in this refreshing vintage whisky
that citrus tang from the chocolate goes great with the tang of the green apples
ooh this lime & chilli truffle has a wee kick
the lime goes really well with this, brings out the green apple
The touch of spice & smoked oak from the dark chocolate suggests that additional dimension in the whisky
 1999
1999 – Balblair is naturally lightly spicy but European oak butts, used sparingly, added some too. We aim for balance
Nose:
baked apples, floral honey, Bird's custard, lime zest & gooseberries.
dark fruits, honeyed sweetness, pecan nuts
sweet fruits,with more clementines, the apricots are fresh, the honey sweetness with a burnt edge, marzipan & orchids
old leather bound books and summer fruits (hint of stawberry)
toffee, floral with hints of malted barley, a milky coffee
deeper, orange blossom honey, older wood, toffee, cereal barley and floral orchard blossom
rich sherry notes are very obvious, seasoned with honey and spice, and citrus which grows the more you nose
Palate:
honey, golden syrup, with dried apricots, blood orange, grapefruit. Nutmeg. Fennel? Easy-drinking.
And the taste… honey, vanilla and sweet toffee make this full bodied Vintage unmistakable
Again the spices shine, with nutmeg, star anise & a little ground spice, with clove studded oranges, apples & thyme
still some leather but more fruits. Not too much dark fruits, but sweet. Keep it a while…nice.
Ginger and orange marmalade, sun-baked tannic leather, caraway seed & vanilla
the honey covers the palate, poached pears, red apples & apricots, awash with lemon juice, ginger & nutmeg
Caramelized hazelnuts & Madagascan vanilla provide a route to appreciate the whiskies toffee & spicy notes
Chocolate:
the lemongrass tames the oak a little, and delivers a more sweeter finish
the @HighlandChoc certainly brought out a lighter side to the 99
Christmas in a glass! Tingle of Lemongrass marries with the Spanish oak, well balanced, delicious!
Candied fruit, pineapple and raisin are a perfect match with this praline
another hit – I like the mixture of ginger (whisky) and lemongrass (chocolate), just beautiful
the chocolate brings the rich vanilla & clotted cream notes from the whisky perfectly, also adds a nod of oak
sour lime and more creamy caramel toffee notes out of the whisky, remarkable the difference!
1990
1990 – 1990 2nd Release:Matured in 2nd fill American oak,ex-bourbon casks,further maturation in 1st fill Spanish oak,ex sherry butts
Nose:
orange marmalade (chocolate?) raisins, slight balsamic note, ginger biscuits
Deep & complex, loaded with banana, pineapple & chocolate. Malt & oak are in harmony
Close your eyes and the smell is similar to walking in to a dunnage warehouse!
even more leather for me (or the dunnage warehouse @anCnoc_whisky?) . Then bitter orange. Toffee.
Much more complex nose on the 1990, more woody and chocolate but I can still smell the apples!
juicy raisins, dark chocolate, hints of dunnage warehouses with cold stone walls, a hint of damp. Root ginger too
This is why I love whisky !! This nose is mysterious, seductive and o so luscious..
Lot more cask influence, predominantly dried fruit, retains the malty sweetness
There's a touch of honeyed banana in a Caribbean dessert creatively spiced. A samba whisky? NO a slow rumba!
Apple & orchard fruits, toffee, vanilla, milk choc, malty barley, roses, rosemary & raisins
after a while it's the raisins and chocolate coming through.
Palate:
Full bodied; sweet and spicy with hits of honey and zesty fruits
rich dark fruits, musky, tobacco, vanilla, candied orange, chocolate, cinnamon, ginger, maple syrup
Dried fruits, highland toffee bars, vanilla, chocolate, banoffee pie? But with a mature note too.
rich christmas cake and dark chocolate gingers on the palate
There's something sumptuously decadent about the 1990, lovely stuff to get your feet up to and enjoy
echoes the nose perfectly. Orange, cinnamon, heather honey, balsamic acidity, raisins. A little woody.
some banana but a lot of dark fruits, chocolate and some hints of smoke getting some dryness @ finish
Chocolate:
Dark chocolate and whisky with maturation time in Spanish oak is a match made in heaven for us
all the raisins, sultanas and cherries from the nose have come through with dark chocolate, apricots and ginger
The zesty fruit & vanilla notes of this truffle are altogether reminiscent of the aromas of this whisky
Fazit
the chocolate has enhanced & some cases announces hidden notes in the drams. They add a level of decadence
The pairings were inspired but the @HighlandChoc really took the combo to the next level.
Mir hat die Kombination mit dem 1990er am Besten gefallen.
Vielen Dank an Balblair für diese interessanten und harmonischen Kombinationen!