Glen Wyvis – die erste Destillerie im Gemeinschaftsbesitz eröffnet am 30.11.2017
Die neue Destillerie in Dingwall, wird am 30.11. eröffnet. Schon wieder eine Destillerie, die fast fertig ist und bisher keine Beachtung von mir fand. Das will ich nachholen und habe ein paar Informationen besorgt. Neil Urquhart, Director von GlenWyvis, hat mir Auskunft gegeben.
Hintergrund
Die Distillerie ist komplett im Besitz einer Community (Community Benefit Society). Ab 250.- GBP kann man Anteile erwerben. Einer der neun "freiwilligen" Direktoren ist Neil Urquhart. Als Distiller Manager wurde Duncan Tait ernannt. Alle Erlöse werden in die Community reinvestiert (auch in andere Projekte). Das Farmland, auf dem die Destillerie errichtet wurde, wird für 1.- GBP Leasinggebühr vom Eigentümer John Mackenzie (Managing Director) zur Verfügung gestellt. Mit der ersten Crowdfunder Aktion am 16.04.2016 wurden in nur 77 Tagen 2,6 Mio GBP gesammelt. Damit wurden 2.600 Personen Miteigentümer. Seit August 2017 läuft eine zweite "Share-Offer" mit einem Ziel weitere 750.000.- GBP einzusammeln. 300.000 .- GBP wurden von weiteren 500 Mitgliedern davon bereits erbracht. Eine weitere Besonderheit ist, dass die gesamte Destillerie mit erneuerbarer Energie betrieben wird. Ein Visitorcenter gibt es noch nicht, aber nach Anmeldung, kann man die Destillerie besuchen. Cafe und Shop gibt es derzeit noch nicht.
Die Adresse: GlenWyvis Distillery, Upper Docharty, Dingwall, IV15 9UF, glenwyvis.com
Produktion
Distillery Capacity: 140,000 litres/alcohol/year
Water Source: Onsite Borehole
Malt supplier/s: Bairds
Malt Spec (inc phenol level): Unpeated
Weight of grist per mash: 0.5 tonnes
Mash Tun type: Full Lauter
Wort clarity: Clear Worts
No. of Washbacks: 6
Size, Charge & Type of Washbacks: 4,400 litre Stainless Steel with a 2,500 litre fill volume
Yeast Type: Pressed Distiller's Yeast
Fermentation Time: 72 – 96 hours
No. of Stills: 2
Size of Wash Still: 2,500 litres
Still shape: Onion
Wash Still Charge: 2,500 litres
Size of Spirit Still: 1,700 litres
Still shape: Lampglass
Spirit Still Charge: 1,700 litres
Heat Source for Distillation: Steam from a Woodchip Boiler
Condenser Type/s: Copper Shell & Tube Condensers
New Make Strength: Approx. 68 – 70% ABV
New make phenol level (if applicable): Unpeated
Filling Strength: 63.5%
Warehousing: Onsite Traditional Dunnage
Percentage of output dedicated for single malt: N/A
Blends Contributed To: N/A
Einige weitere Informationen vor allem bezüglich der Beteiligungsmöglichkeiten findet Ihr in der Pressemitteilung. Die Bilder stammen alle von Glen Wyvis.
(Pressemitteilung, Glen Wyvis)
Latest News
New member GlenWyvis distils multiple benefits for Dingwall
GlenWyvis is the world's first employee-owned and community-owned whisky distillery and has its sights set on being a dual production distillery also producing gin from early 2018.
GlenWyvis employs five people who are 'members' alongside those who have invested in the project and each has a voice and vote in the running of the business. The aim of the business is to help rejuvenate the historic town of Dingwall and the wider local community by reinstating the traditional industry of whisky distilling following a gap of 90 years.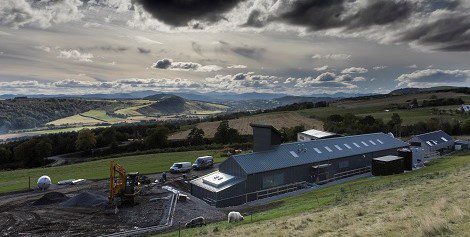 Established by John Mckenzie, The Flying Farmer, in 2015 the distillery is a Community Benefit Society which means that eventually a share of all profits will be reinvested into community projects. The distillery, its bonded warehouse and other buildings are being built high on a hill overlooking Dingwall – on farmland that has been leased to the Distillery by John Mackenzie for a £1 fee. An official opening will take place on 30th November 2017, with production of whisky following shortly thereafter.
The distillery recently appointed its first Distillery Manager, Duncan Tait, and the operation is overseen by a board of nine voluntary directors.
The distillery team raised the start-up capital through Crowdfunder. Their first share offer launched on April 16th 2016 and raised over £2.6m in just 77 days making it the largest ever community crowd-funded project in the UK.
Some 2,600 people chose to invest and become members of GlenWyvis with more than 60% of these members being from the Highland area – and the rest from all over the world. Regardless of how much they invested from £250 to £100,000 – every member has one vote and they are all classed as equal owners in the distillery. GlenWyvis went on to launch a second open share offer in August 2017 raising over £300,000 in the first three months and adding over 500 more members to the Society.
Monies raised from the second share offer – which has a target of £750,000 – are being invested to accelerate the distillery's brand development, bring gin distillation to the Dingwall site and tp reduce the costs of commercial lending so it can deliver on its community benefit remit sooner.
The project also has the environment in mind being 100% powered by renewable energy with hydro, wind, solar and biomass energy all available on site.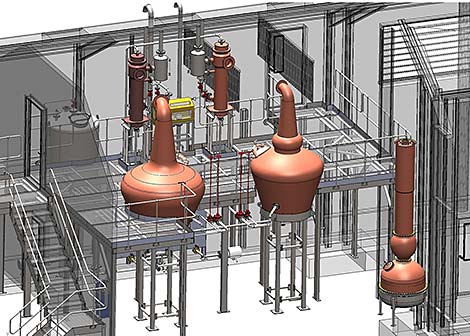 John McKenzie, founder and managing director said: "We wanted to build a business that put local people and the community at its heart. Crowdfunding has enabled us to do that and to create a business that is 100% community-owned – and now that community includes all the directors and employees. It is a very democratic way of bringing a large number of people into your business, but with that comes a lot of responsibility too. Now with the distillery set to open, we will continue to create more jobs as we move into full production. It's a very exciting time for everyone involved with GlenWyvis – and we continue to welcome new investors.
Deb Oxley, CEO of the EOA, said: "It is great to see businesses that not only choose to look after their employees and to give them a voice, but also where the benefits of the business are rooted in the community in which they operate. We need wider mix of business models in the UK and certainly more that offer better social mobility for employees and communities rather than just serving the short term interests of external shareholders. The business strategy for GlenWyvis is deeply rooted in creating real community benefit while making the least impact on the environment."
Background
GlenWyvis Distillery is the UK's first 100% community-owned whisky and gin distillery. Situated high on a hill above the historic market town of Dingwall, GlenWyvis is taking a lead role in the rejuvenation of its local community.
The people of Dingwall are heirs to a little-known but rich whisky heritage. The town once boasted the north of Scotland's largest distillery – Ben Wyvis (1879-1926), named after the towering mountain that dominates the local landscape. A century earlier, across the Cromarty Firth on the Black Isle, once stood the Ferintosh distilleries, which together produced more than two thirds of Scotland's legal whisky during the 1760s. Today, GlenWyvis Distillery's founder and managing director, John McKenzie, has revived the area's whisky tradition – but through a very modern design. In 2016, GlenWyvis ran the largest ever crowd-funded share offer in UK history. More than 2,600 people invested in the project, raising a total of £2.6 million in just 77 days – an incredible response to an extraordinary idea. Now in the middle of its second share offer, the distillery's community of investors has grown to over 3,000, and continues to increase every day. The distillery is established as a Community Benefit Society, which means that its future profits will be reinvested back into the local community. Furthermore, the distillery is creating jobs and boosting the local tourism industry. In addition to its community-led ethos, GlenWyvis is also a champion of green energy. The distillery has its own wind turbine, hydro scheme, solar panels, and biomass boiler, which will provide the steam to heat the whisky stills. The distillery is based on a farm, and so in keeping with tradition, the distillery's waste 'draff' will be used to feed John's herd of Belted Galloway Cattle. GlenWyvis Distillery is all set to hold a local community opening on Thursday 30th November – St. Andrew's Day – and with the commissioning complete – the Distillery Manager, Duncan Tait, will begin producing new make spirit shortly afterwardz in early December. The distillery will be a dual craft whisky and gin distillery – joining only a handful of other dual producers in Scotland. Indeed, GlenWyvis Gin has been on the market since 2015, creating both revenue and public awareness of the project across the UK. Scotland's craft gin scene is vibrant, and the team at GlenWyvis attend gin festivals and events across the country on an almost-weekly basis. In the run up to Christmas, GlenWyvis will be attending both large-scale food and drink festivals, small community fairs, and even a tasting with Santa himself at Baxter's of Fochabers– so long as the reindeer can be switched to auto-pilot! The St. Andrew's Day opening will be led by our community of investors, and owing to the distillery's unique story and success, we anticipate excellent coverage of the event in the national media. We recently featured in BBC Scotland's Landward, which further raised our public profile. The opening will mark GlenWyvis Distillery's entry into the thriving malt whisky tourism sector. Situated on the hugely popular North Coast 500 touring route, the distillery anticipates attracting 10,000+ visitors annually. We will also be launching our 'pagoda cam' – a live camera that will share our activities here at GlenWyvis, as well as our stunning local scenery, with the rest of the world. And we have just found out that the distillery has made the shortlist for the Plunkett Foundation's Community Co-operative of the Year in Scotland Award, the winner of which will be announced at a ceremony in London in December. GlenWyvis Original Highland Gin, Highland Inspiration Single Malt Whisky – bottled to mark the laying of the distillery's foundation stone – and GlenWyvis North Coast 500 Gin, together with the rest of our product range, are available to buy online, and in selected Scottish retailers. In buying GlenWyvis products, including gift investment packages, you will be supporting a social enterprise with a difference – the only 100% community-owned distillery in the UK.  Now that's the real community spirit.
FAQ für Investoren
Why buy shares in GlenWyvis?
Buying a share in GlenWyvis Distillery makes financial sense and supports an entire Highland community. GlenWyvis is a unique concept, bringing together people, sunlight, wind and water to make the world's first 100% community-owned whisky distillery powered entirely by renewable energy. Our first share offer in 2016 raised over £2.6 million in 77 days. Now is your chance to be part of the second open share offer.
What is the open share offer at GlenWyvis?
The second share offer at GlenWyvis opened on August 3rd 2017. After less than four months, we have passed our first target of £250,000, raising over £325,000. This will allow us to accelerate our brand development to ensure the success of our gin and early whisky sales. Our second target of £500,000 will bring gin distillation home to Dingwall. Our third and final target of £750,000 significantly reduces our commercial lending costs.
How much is a share?
Each share costs £50, with the minimum investment set at £250. This may be purchased by an individual or by a group of people. It may also be purchased as a gift – something that always proves very popular in the run-up to Christmas. You may of course spend more than £250– in fact – we definitely think you should. The maximum level of investment is set at £100,000. Once you have purchased shares you have one vote as a member of the GlenWyvis Distillery Community Benefit Society.
What is the investment opportunity?
The main benefit is being part of an ambitious and innovative project: one that is focused on helping with the rejuvenation of Dingwall by providing employment, attracting visitors and reinvesting a share of its profits back into the community. Of course, your share is expected to generate a cash return in the near future too. In 2022 we expect to pay our first dividends with annual interest on your share capital estimated at around 4% gross. We also anticipate shares will be available for tax relief under the Enterprise Investment Scheme, once HMRC has accepted the scheme, and for the tax year in which the investment was made. Everyone who spends the minimum £250 receives a rewards package, which includes a share certificate, 200ml bottle of GlenWyvis gin, a GlenWyvis gin glass, an enamel GlenWyvis button badge and, after three years, a 200ml bottle of GlenWyvis whisky and a Glencairn whisky glass. Members spending £10,000 and above enjoy additional rewards – which can be agreed by negotiation. Your membership also allows you to participate in the Annual General Meeting, deciding on the future and running of the business. It also gives you the power to elect the Board of Directors for the distillery. Members residing in the IV postcode area may elect up to six directors; members living elsewhere in the world may elect up to three directors. The idea behind this is to ensure that the distillery remains in community-ownership long term.
What are the plans for GlenWyvis distillery?
We recently appointed our Distiller Manager, Duncan Tait, and the distillery itself opens on 30 November 2017 with whisky production beginning shortly thereafter. Whisky cask sales begin at the end of this year, with first option to buy given to our members, of course. And we will bring the gin distillation onsite in early 2018 – currently it is being made elsewhere, using Dingwall botanicals, to build the brand name. In 2021, when we have our three-year old product, it will be released as an un-aged single malt whisky. At eight years old, the product will reach an age of maturity when the age will be put on the bottle. This will mark the beginning of GlenWyvis whisky moving into significant and mainstream markets in the UK and abroad.
How can I monitor the progress of GlenWyvis whisky distillery?
We have very engaged communities on Facebook, Twitter and Instagram. We post nearly every day, with news of construction, events we're at, people we're working with, history of the area and the odd mention of our neighbours, who are mostly four-legged. We also send out a monthly newsletter to all members.
Are there any risks associated with the GlenWyvis open share offer?
GlenWyvis Distillery has been incorporated with limited liability. This means the liability of its members will be limited to the amount paid for their shares. However, we recommend that prior to making a decision to subscribe for shares, you should consider the risk factors and speak to your financial advisor.