Neu: Springbank 12yo CS & 16yo Local Barley – mit Tasting Notes
Ab heute sind die beiden neuen Springbank Abfüllungen in Deutschland erhältlich. Es gibt eine neue limitierte Abfüllung des 12-jährigen in Fassstärke und einen neuen Local Barley als 16-jährige Ausgabe.
Springbank, 12yo, CS, 54.1%, ca. 60-65.- EUR
Springbank, 16yo, Local Barley, 54.3%, ca. 120-140.- EUR
Offizielle Tasting Notes
12yo – Cask Strength
Nose: Classic Springbank with aromas of our damp dunnage warehouses alongside parma violets, vanilla and cocoa. Plenty of fruit too with prominent notes of pear and candied fruits.
Palate: Bold and beautifully rounded. Vanilla and pepper notes are present alongside
stewed apples, pear drops, orange marmalade and tropical fruits.
Finish: Peaty embers influence this characteristically long finish which also reveals notes of liquorice, oak and salted caramel.
16yo – Local Barley
First in a series of annual releases distilled from Barley grown locally around Campbeltown.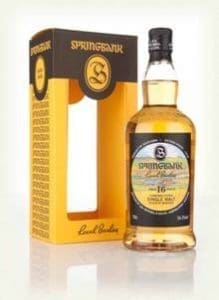 Nose: Initially Sweet and briny before notes of butter shortbread, vanilla, pear drops and raisin develop.
Palate: Sweet and rounded with a very subtle peat influence combining with butter
tablet, soft fruit and mineral notes.
Finish: A long evolving finish with notes reminiscent of our earthy dunnage warehouses. The peat is slightly more prominent and integrates well with lighter
Da beide Abfüllungen sehr beliebt sind, werden sie nicht lange bei den Händlern stehen. Der 16yo ist bei Master of Malt (UK) bereits ausverkauft. In Deutschland kommen sie aber erst ab heute in den Handel.