Neu: Beinn Dubh Special Edition – Flying Scotsman
Gestern gab die Speyside Distillery ein weiteres Ihrer "Geheimnisse" bekannt: eine neue Sonderedition des Beinn Dubh Flying Scotsman.
Beinn Dubh Flying Scotsman, 43%, 10.000 Flaschen, UVP £50.- (ca. 63.- EUR)
Meine Tasting Notes zum Beinn Dubh findet Ihr hier: Speyside Distillery lüftet das Geheimnis – Beinn Dubh. Meinen Besuch der Speyside Distillery mit Bilder findet Ihr hier: Speyside – "Distillery Tour" mit Sandy Jamieson. (Ich gehe davon aus, dass die Angabe auf dem Label mit 43% korrekt ist, denn auch der "normale" Beinn Dubh wurde mit 43% abgefüllt).
(Pressemitteilung, Speyside Distillery / Tricker PR)
Full steam ahead for new special edition whisky from Speyside Distillery celebrating the return of the iconic Flying Scotsman
Speyside Distillery has produced a brand new special edition whisky to mark the return of the iconic Flying Scotsman steam locomotive to the National Railway Museum following a major restoration.
The commemorative bottle of the distillery's Beinn Dubh ruby black whisky has been produced under licence for the museum, which welcomes back its most famous – and best loved – exhibit today (Thursday, February 25) after a decade-long absence.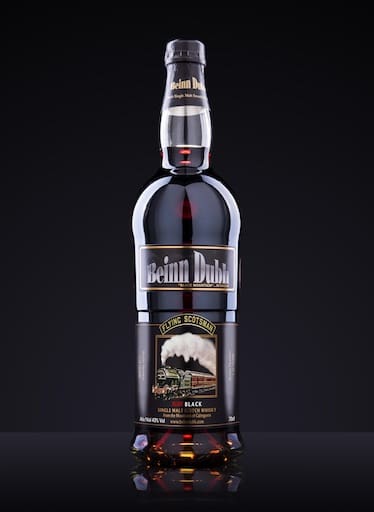 Speyside Distillery, which is based at the foot of the Cairngorm mountain range in the Scottish Highlands, was selected to produce the Flying Scotsman Beinn Dubh single malt Scotch whisky because of its track record working with other historic brands.
The small, boutique distillery also produces the luxurious Royal Choice single malt under its SPEY brand. The expression is sold through the Historic Royal Palaces – a portfolio that includes the Tower of London, Kew Palace and Kensington Palace.
Speyside Distillery CEO John Harvey McDonough says the distillery's partnership with Flying Scotsman is the perfect match as both represent heritage, tradition and innovation.
He adds, "I don't think there could be a better whisky to sum up everything that Flying Scotsman stands for. Just as the locomotive was a pioneer of its day and continues to set new records, Speyside Distillery is marrying traditional distilling techniques with innovative ideas. We are extremely grateful to have been selected by the Flying Scotsman to develop its own brand single malt Scotch whisky, and it will be a huge honour for us to see Beinn Dubh Flying Scotsman hit the shelves in a couple of weeks. We hope that rail enthusiasts and people who love this world-famous locomotive will celebrate its long-awaited return to the National Railway Museum by raising a toast of this very special whisky."
Flying Scotsman – arguably the best known train in the world – shot to fame after becoming the first steam locomotive to break the 100mph barrier in 1934 during a run from London to Leeds.
The locomotive returns to the National Railway Museum in York today following a £4.2m restoration – and as a working exhibit sets a new record for the oldest mainline working locomotive on Britain's railway tracks.
To celebrate its return, Flying Scotsman today makes an inaugural run on the East Coast Mainline between London Kings Cross and York, before returning home to the museum where a huge crowd of well-wishers is expected to gather.
Paul Kirkman, Director of the National Railway Museum, says, "We have all been looking forward to the day when Flying Scotsman steams home to York along the East Coast Mainline and now this historic moment has finally come to pass. This celebratory journey marks a new stage in this steam icon's long and colourful history, and is a tribute to all the people who have worked so hard to make this happen, from those that have worked on the restoration itself to the public that donated to our appeal to bring this legend back to life."
Beinn Dubh is an innovative release from Speyside Distillery. The distinctive ruby-black whisky was launched into the market last year, and is already proving a hit with whisky lovers across Europe and the Far East.
Beinn Dubh is another name often given to Ben Macdui – the highest peak in the Cairngorm mountain range. It translates from Gaelic language as the black mountain, and refers to its dark and mysterious atmosphere.
Beinn Dubh's taste is deep and dark: rich fruits, currants and chocolate dominate at first, but these gradually give way to both bitterness and sweetness. Beinn Dubh Flying Scotsman is 40% ABV and has an RRP of £50.
It will be available to buy from the National Railway Museum retail outlets. Speyside Distillery will also be putting the commemorative bottle on general release, with distributors receiving a limited allocation of the stock.
Speyside Distillery near Kingussie has been in production since 1990 and is operated by Speyside Distillers Ltd. For further information about Beinn Dubh, visit www.beinndubh.com.