Brown-Forman kann Rachel Barrie als Nachfolgerin für Billy Walker gewinnen
Es geistert schon ein paar Tage durch die sozialen Netzwerke, aber heute gab es die offizielle Pressemitteilung von Brown-Forman: Rachel Barrie ist ab 01.03.2017 Whisky Maker für BenRiach, GlenDronach und Glenglassaugh.
Bisher war Rachel für BeamSuntory (Morrison Bowmore) als Master Blender tätig. Nun löst sie Billy Walker ab, der letztes Jahr überraschend seine drei Destillerien an Brown-Forman verkauft hatte (Brown-Forman kauft BenRiach, GlenDronach und Glenglassaugh). Mal sehen, wer die Lücke bei BeamSuntory jetzt schließt.
(Pressemitteilung, Brown-Forman)
Brown-Forman Names Rachel Barrie Whisky Maker for BenRiach, The GlenDronach and Glenglassaugh Distilleries
Louisville, KY, February 20, 2017 – Brown-Forman announces today the appointment of Rachel Barrie as whisky maker for its Scotch whisky portfolio which includes the BenRiach, The GlenDronach and Glenglassaugh distilleries, effective March 1, 2017. She will succeed Billy Walker who helped grow The BenRiach Distillery Company into one which is recognized throughout the industry for innovative and exceptional quality single malt Scotch whiskies. Walker will continue to support the distilleries and share his whisky expertise throughout the transition.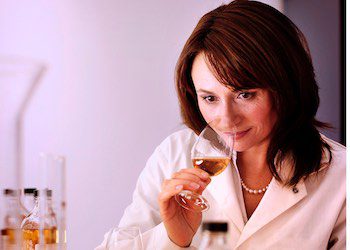 Barrie has served as master blender of Morrison Bowmore Distillers for the last five years where she led whisky creation for Bowmore, Auchentoshan and Glen Garioch, most recently including Laphroaig and Ardmore. Prior to joining Morrison Bowmore Distillers, Barrie worked with the Glenmorangie Company for 16 years, eight of which were spent as whisky creator and master blender for Glenmorangie and Ardbeg single malts as well as James Martin's and Bailie Nicol Jarvie blended Scotch whiskies. During Barrie's time at Glenmorangie, Brown-Forman had a minority ownership in the distillery and this new role brings Barrie back to some of her earlier distilling roots with the company.
Barrie was educated at the Inverurie Academy and graduated with honors with a chemistry degree from the University of Edinburgh before beginning her career as a research scientist at the Scotch Whisky Research Institute. Barrie has received numerous industry accolades for her work in developing award-winning whiskies in addition to judging international spirits competitions and serving on numerous industry committees.
"We are very pleased that Rachel Barrie is joining our team and will continue the excellent Scotch whisky-making tradition fostered by the venerable Billy Walker," said Alex Alvarez, chief production officer for Brown-Forman. "We take great comfort in knowing that Billy will continue with our team over the coming months to ensure a smooth transition for Rachel."
The BenRiach Distillery Company has been named Whisky Distiller of the Year twice in the annual Icons of Whisky Awards. BenRiach, The GlenDronach and Glenglassaugh have received numerous awards in international spirits competitions for their ranges of exceptionally-crafted peated and unpeated single malt Scotch whiskies.