Single Malt Whisky im Cocktail? Eine Sommerlaune?
Gestern erreichte mich eine Pressemitteilung von Tomatin. Zusammen mit dem preisgekrönten Barmixer Calum Lawrie hat Tomatin eine Serie von Sommer Whisky Cocktails kreiert. Jemand Lust zum Ausprobieren?
Abgesehen hat man es damit nach eigenen Angaben auf die weiblichen Whisky Trinker. Ich bin Purist, aber auch ein Vertreter der Meinung: jeder soll seinen Whisky genießen, wie er ihm/ihr am Besten schmeckt. Zum Mixen sollte man nur keine hochwertigen und teuren Whisky nutzen, dafür gibt es viele sehr passable Blends. Oder einen aus der Sammlung, der vielleicht doch nicht zum Lieblingswhisky wird? Hier habt Ihr ein paar Anregungen, was mal ausprobiert werden kann.
TOMATIN & TONIC
ICED T.E.A.
LASTING LEGACY
FREE BURN HIGHBALL
SOFT SIDE
BOLD FASHIONED
CHERRY BLOSSOM
MIZUWARI MAC
Cocktail-Rezepte mit Whisky
Die Rezepturen sind zwar alle mit Tomatin, aber es hält Euch natürlich niemand davon ab, diese auch mit anderen Single Malts oder auch einem Blended Whisky auszuprobieren.
TOMATIN & TONIC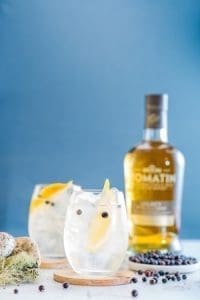 35ml Tomatin Legacy
Squeeze of a lemon wedge
Indian tonic water
Add Tomatin Legacy over ice in a stem-less wine glass before squeezing in the juice of a lemon wedge. Drop in some juniper berries then top with sparkling Indian tonic water. Garnish with a wedge of fresh lemon.
Diese Variante ist angelehnt an Gin & Tonic. Ich bin kein Freund von Wachholder und probiere den sicher nicht mit den Wachholderbeeren, aber ohne – mal sehen.
ICED T.E.A.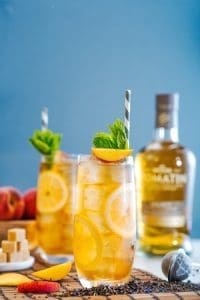 50ml/2oz Tomatin Legacy
50ml/2oz Chilled Earl Grey tea
50ml/2oz Clear apple juice
Dash peach bitters
Pour Tomatin Legacy over ice in a Highball glass. Place 2 lemon wheels into the glass and then build with chilled Earl Grey tea, clear apple juice and a dash of peach bitters. Stir and garnish with a sprig of mint and fresh peach wedge.
LASTING LEGACY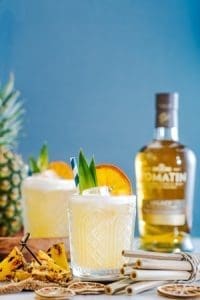 50ml/2oz Tomatin Legacy
25ml/1oz Elderflower liqueur
25ml/1oz Lemon juice
50ml/2oz Pineapple juice
Dash Angostura bitters
Add all ingredients to a shaker and shake hard. Strain into an ice-filled Old Fashioned glass and garnish with a dehydrated orange wheel & pineapple leaves.
FREE BURN HIGHBALL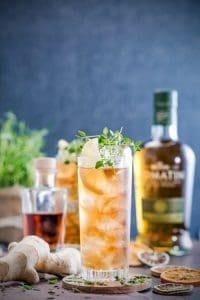 ALT-NA-FRITH ist der Name der Wasserquelle von Tomatin und bedeutet "Free Burn" (freier Bach).
37.5ml/1.5oz Tomatin 12 Year Old
12.5ml/.5oz Sweet vermouth
Dash Angostura bitters
Ginger ale
In a Highball glass, fill with ice and add each ingredient. Stir to combine and garnish with a lemon slice & fresh thyme.
SOFT SIDE
Eine Variante des Whisky Sour.
50ml/2oz Tomatin 12 Year Old
25ml/1oz Lemon juice
12.5ml/.5oz Sugar syrup
25ml/1oz Pressed apple juice
12 Large mint leaves
Place mint leaves into a cocktail shaker followed by all liquid components. Fill with cubed ice, then shake vigorously to break down the mint and chill the drink. Fine strain over crushed ice into an Old Fashioned glass. Finish with a red apple fan and mint sprig.
BOLD FASHIONED
50ml/2oz Tomatin 12 Year Old
Brown sugar cube
Orange twist
Dash black walnut bitters
3ml/.1oz Coffee extract
Squeeze an orange twist inside an Old Fashioned glass to release the oils. Place a sugar cube in the base of the glass with a dash of Tomatin 12 Year Old and Black Walnut bitters. Break the sugar cube down and add a single measure of Tomatin 12 Year Old followed by several ice cubes. Stir around 25 times before adding the final measure of Tomatin with more ice. Stir another 25 times or until the sugar granules have dissolved and the drink is sufficiently chilled.
CHERRY BLOSSOM
50ml/2oz Tomatin Legacy
Barspoon cherry jam
50ml/2oz Coconut water
2ml/.1oz Orange blossom water
Stir down a barspoon of cherry jam with Tomatin Legacy before adding coconut water and a small amount of orange blossom water. Shake vigorously and then double strain into a chilled Sours glass. Garnish with a maraschino cherry.
Kirsche im Whisky? Das werde ich nicht ausprobieren.
MIZUWARI MAC
50ml/2oz Tomatin Legacy
37.5ml/1.5oz Plum wine // Ginger wine
Still mineral water
Fill half a large chilled Highball glass with cubed ice and then add the Tomatin 12 Year Old. Stir several times before adding the further ingredients with more ice, and stir once again. Garnish with a slice of fresh ginger.
For a zingy alternative swap the plum for ginger wine!
Das klingt nach einer sehr süßen Variante aber gar nicht so schlecht. Mal sehen.
Und warum?
Calum Lawrie, meint zu den Cocktails: "Summer is the perfect time to enjoy sunshine and spirits and the smooth, dynamic Tomatin malt provides the perfect base for this collection of cocktails."
Jennifer Masson, Marketing Manager Tomatin, kommentiert: "Scotch whisky has had a somewhat demure reputation for decades but the fact is that there is only one way to enjoy single malt: the way you like it. Having recently rebranded our packaging we are looking at other ways to engage with new audiences. This new range of cocktails has been developed in response to demand from our customers worldwide and has allowed us to reinforce our brand positioning as the softer side of the Highlands."
Bis auf den Cherry Blossom und die Wachholderbeeren im Tomatin / Tonic klingt das alles akzeptabel. Auf jeden Mal eine interessante Sammlung von Whisky-Cocktails. Aber von meinen guten Flaschen opfere ich dafür keinen.
UPDATE: mich haben ein paar Reaktionen erreicht und auch ein paar weitere Cocktail-Tipps, die ich Euch nicht vorenthalten möchte.
MargareteMarie hat einige Rezepte und Berichte auf whiskyundfrauen veröffentlicht:
Christian Kaufmann's Tipp:
Lion's Tail (mit Bourbon) – Rezept
Einige Rezepte von Christian May:

Rapscallion: Talisker 10 mit PX Sherry
Smoky Grove: Compass Box Peat Monster, Antica Formula, Dolin Dry, Angostura & Orange Bitters
Auchentoshan Three Wood mit Belsazar Red und Angostura als Manhattan-Variante. Weitere Experimente mit anderen Vermouths (rote!): Dolin Rouge, Carpano Antica Formula

Und von Sirko Bohn:


Mit Bourbon oder Rye geht meiner Meinung nach geschmacklich deutlich mehr in Cocktails. Daher finde ich Malt Whisky tatsächlich etwas schade dafür. Ala Old Fashioned, Whiskey Sour, Lynchburg Limonade… oder ganz Simple Ginger Ale, Bourbon (alternativ Southern Comfort) & Limette