Lindores Abbey Distillery – hier wurde der erste Whisky gebrannt
Vor noch nicht langer Zeit war ich bei Lindores und habe mir den Rohbau angeschaut. Leider habe ich dabei Drew McKenzie Smith verpasst, denn der war gerade in Edinburgh und hat in den Archiven der National Records of Scotland ein besonderes Dokument betrachten dürfen.
Nun erreicht mich die Pressemitteilung und ich darf offiziell darüber berichten. Mein Besuchsbericht der Baustelle folgt noch, aber das, was Drew in den Archiven gesehen hat, ist sicher auch für den ein oder anderen interessant. Pünktlich zum World Whisky Day am Samstag.
Bereits 1494 wurde auf einem Steuerbeleg (Exchequer Roll) der Bruder John Cor, ein Mönch der Lindores Abbey, vermerkt. Er sollte für König James IV Aqua Vitae herstellen. Am 1. August 2017 soll die neue Destillerie eröffnet werden. Die Stills sind gerade angekommen und man liegt gut im Zeitplan.
(Pressemitteilung, Lindores)
Founder of Lindores Abbey Distillery visits archive record of first Scottish Whisky distillation to mark World Whisky Day
Drew McKenzie Smith, who has built a distillery on the historic site of Scotch's birthplace, makes a personal pilgrimage to 1494 exchequer roll.
On the eve of World Whisky Day this Saturday (May 20th) the founder of Lindores Abbey Distillery, which will open its doors this August on the site of the first recorded distillation of whisky, has visited the National Records of Scotland in Edinburgh for a private viewing of the first written evidence of the production of whisky in Scotland.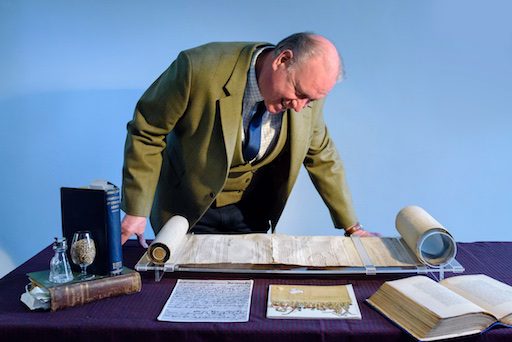 The Exchequer Roll (tax record) from 1494, names Friar John Cor, a Lindores monk, who was commissioned by King James IV to turn 8 bolls of malt into Aqua Vitae.
[perfectpullquote align="left" cite="" link="" color="" class="" size=""]The excerpt from the Exchequer Roll of 1494 reads:[/perfectpullquote]"Et per liberacionem factam fratri Johanni Cor per preceptum compotorum rotulatoris, ut asserit, de mandato domini regis ad faciendum aquavite infra hoc compotum, viii bolle brasii."
[perfectpullquote align="right" cite="" link="" color="" class="" size=""]Which roughly translates to:[/perfectpullquote]"To Friar John Cor, 8 bolls of malt, wherewith to make aqua vitae for the King." 8 Bolls of malt amounts to around 500kg in modern terms and would have been enough to make about 400 bottles of today's whisky.
Ahead of opening its distillery doors this August, Lindores Abbey Distillery has launched its Preservation Society membership with an unprecedented global whisky ballot.
'The 1494' members of The Lindores Abbey Preservation Society, who join with a £500 donation, will be entered into this launch ballot for a 200 litre ex-Woodford Reserve bourbon barrel, which will be filled with first year of production Lindores Abbey Distillery spirit. The unique cask can then be bottled for the lucky winner at a date of their choosing, once the spirit is three years and a day old. As part of the launch ballot, the cask duty will also be paid, taking the value of the Lindores Abbey membership launch prize to in excess of £7,000.
'The 1494' will also have a tree planted in the new orchards in the member's name (which they are welcome to plant with prior arrangement); they will receive a bottle from the first Limited Edition bottling of Lindores  Abbey Aqua Vitae (50CL, 40% ABV); a bottle (1 of only 1494) from the first distillery bottling of Lindores Abbey Single Malt Whisky (70CL, 40%+ ABV) – sent out when Lindores Abbey's Distillery Manager Gary Haggart declares it ready; first offer on any other Limited Edition bottlings and rights to own a bottle number each time; a welcome pack with wooden membership card entitling free entry at the distillery and visitor centre for the member and a guest in the year of joining; annual invitation to the Lindores Abbey 'Bear Burning' Ceremony and party for the member and a guest; 10% discount for the online shop and at the Visitor Centre; plus 10% discount on venue hire.
Members can donate £60 to the Preservation Society to secure a bottle from the first Limited Edition bottling of Lindores Abbey Aqua Vitae (50CL, 40% ABV); early access to any other Limited Edition bottlings; a welcome pack including two tickets to visit the Distillery and Abbey and a 10% discount for the online shop.
Lindores Abbey, or the 'Church by the Water', is a key site in Scotland's pilgrim and royal heritage. Founded in 1191 by David Earl of Huntingdon, on land overlooking the Estuary of the River Tay, given to him by his brother King William I.
The Tironensian monks who built and populated the monastery in 1191 were masons, distillers, brewers, carpenters, blacksmiths, sculptors, painters, gardeners, beekeepers, farmers and husbandmen, and they all played a part in the work of the Abbey.
Drew and Helen Mackenzie Smith want to see Lindores Abbey flourish again as a site for research, learning, brewing, distilling, horticulture, and even beekeeping, reinstating distilling and heritage orchards and gardens.  Members of the Preservation Society will share in that vision. As part of the Preservation Society's commitment to protect the Abbey for future generations, members will become part of a very small group of people who have directly contributed to the preservation of this historic site.
Founder of Lindores Abbey Distillery, Drew McKenzie Smith said: "As we commence the revival of spirit flow at the birthplace of Scotch whisky, it felt fitting to pay a personal pilgrimage to the record which our historical landmark is founded upon. World Whisky Day is a global celebration of our national spirit, and I will certainly be raising a dram in its honour amongst the Abbey grounds. I look forward to welcoming the world to Lindores Abbey Distillery later this year, and encourage enthusiasts to explore our Preservation Society memberships as an opportunity to support the revival of so many ancient crafts and traditions, as we return Scotch Whisky's oldest landmark to its former glory."
The pictures are taken by HELEN PUGH PHOTOGRAPHY