Global Whisky Distiller 2015: BenRiach
BenRiach macht in letzter Zeit verstärkt auf sich aufmerksam. Bekannt ist BenRiach für immer wieder neue Abfüllungen mit den unterschiedlichsten "Finishings". Nun wurde die BenRiach Distillery Company, die auch der Besitzer von GlenDronach und Glenglassaugh ist, zum Global Whisky Distiller of the Year bei den 2015 "Icons of Whisky" Awards gewählt.
Und nicht nur das. Das Whisky Magazine hat auch noch den BenRiach 16 years als den Best Speyside Single Malt ausgezeichnet.
Da bleibt mir nur noch eines: herzlichen Glückwunsch!
(Pressemitteilung, BenRiach Distillery Company)
BenRiach Distillery Company Named Global Whisky Distiller of the Year in 2015 "Icons of Whisky" Awards
The BenRiach Distillery Company has been named Global Whisky Distiller of the Year at the 2015 Icons of Whisky Awards.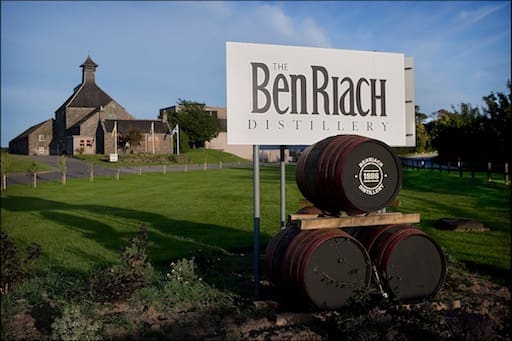 The announcement was made last night during a ceremony at London's Waldorf Hilton on the eve of Whisky Live London. This latest award follows hard on the heels of BenRiach winning the "Icons of Scotland" Whisky Distiller of the Year earlier this year. First held in 2007, the World Whiskies Awards are Whisky Magazine's awards, searching for the very best whiskies in the world.
And BenRiach had double cause for celebration last night, as it won Best Speyside Single Malt for the BenRiach 16 years old produced at its Elgin distillery. The winners were decided in online voting by writers, whisky producers and other industry leaders along with the editorial staff of Whisky Magazine. They were selected from three regional rounds of Icons awards covering Scotland, the US, and the Rest of the World.
This year's competition saw more than 300 whiskies put through their paces during three rounds of rigorous tastings to win the coveted titles of the 'World's Best' Founded in 2004 under the leadership of whisky veteran Billy Walker and his South African investors Wayne Kieswetter and Geoff Bell, the Edinburgh-headquartered company has grown with impressive speed, acquiring BenRiach that year and turning it into one of Scotland's most admired distilleries.
It acquired GlenDronach Distillery in 2008 and Glenglassaugh Distillery in 2013 as well as a bottling plant at Newbridge outside Edinburgh. All three distilleries produce unique award-winning whiskies with extraordinary depth, balance and character. Billy Walker said: "It's a pretty amazing achievement for a small privately-owned independent company to win this prestigious global award. I'm especially proud that it highlights the innovations we've created at our three distilleries and it also quite properly recognises the high-quality, committed team we have built at our four locations. We're currently trading in some 40 countries worldwide with other emerging markets entering the negotiation stage, so I believe the future for all our brands is tremendously exciting."
In August the company posted record pre-tax profits of £8.9m for 2013 boosted by unprecedented demand for its high-end whiskies in Asia, North America, Russia and Europe.