Feis Ile startet mit 200-jährigem Jubiläum von Lagavulin
Heute ist es soweit. Das Feis Ile startet mit Lagavulin und damit mit einem 200-jährigem Jubiläum. Und zugleich ist heute der World Whisky Day. Wenn das kein Grund zum Anstoßen ist. Diageo hat am Freitag die beiden diesjährigen Abfüllungen von Lagavulin und Caol Ila bekannt gegeben.
Lagavulin, 18yo, Cask Strength, 6.000 Flaschen, 125.- GBP
Caol Ila, 12yo, Cask Strength, 1.500 Flaschen, 99.- GBP
Georgie Crawford's tasting notes – Lagavulin
In brief: Rose gold in colour, the Lagavulin 18 Year Old has an initially shy nose which opens up to offer complex rich, spicy notes with a nod to marzipan, dark dried fruits and star anise. Lovely fresh notes from the American oak and some menthol nose tickle. The taste is sharp but sweet, a subtle tannin background with a lovely long lasting finish. Slight saltiness gives way to a gentle roll of smoke across the tongue. Hints of soft fruits and plain chocolate balanced with rich wood character.
Zur Einstimmung und für alle die, die nicht vor Ort sein können, findet Ihr hier ein paar 360° Filme von Lagavulin: https://www.malts.com/en-gb/lagavulin-360-videos/
HAPPY ANNIVERSARY! HAVE A GREAT FEIS!
Hinweis: In der Pressemitteilung steht "The Caol Ila single cask bottling". Das ist falsch. Es handelt sich nicht um ein Single Cask ;-)
(Pressemitteilung, Diageo/Lagavulin/Caol Ila)
Feis Ile 2016 – Diageo Announces Two Special Bottlings
Two limited edition bottlings of Lagavulin™ and Caol Ila™ Single Malt Scotch Whiskies will be released for the 2016 Islay Festival, Diageo has announced.
Given the heightened interest in Lagavulin during its bicentennial celebration, it's anticipated that these bottlings will be much in demand from enthusiasts. Often selling out within hours of going on sale, they will be available to personal shoppers at the distilleries only.
Lagavulin 18 Year Old
The Lagavulin Festival bottling comes from a blend of refill American Oak and ex Bodega European Oak casks. Bottled at cask strength, it will be a limited edition run of 6,000 bottles. RRP £125.
Caol Ila 12 Year Old
The Caol Ila single cask bottling is also a blend of refill American Oak and ex Bodega European Oak casks. Bottled at cask strength, with a limited edition run of 1,500 bottles, this is a unique, more sherried expression than might be expected of a Caol Ila. RRP £99.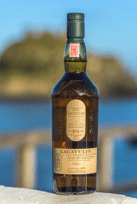 The Lagavulin bottling will be sold on a first-come, first-served basis at the distillery, starting on the distillery's open day on World Whisky Day, Saturday 21st May. The Caol Ila bottling will be sold starting from the Caol Ila distillery open day on Monday 23rd May. During the Festival, a series of special events will be held at both Lagavulin and Caol Ila distilleries, including tastings with the distillery manager and warehouse demonstrations, which are now all sold out.
2016 continues to be a memorable year for Lagavulin as the iconic Islay distillery marks its 200th anniversary. Georgie Crawford, Lagavulin Distillery Manager, said of the bottling: "This is a really special year for everyone at the distillery, and we're looking forward to celebrating with our friends at the Feis Ile by raising a dram of these exceptional bottlings together."
The Lagavulin Distillery team are aiming to bring as many people to Islay and Islay to as many people from around the globe as possible in 2016 to celebrate years of craft and passion. For those who cannot attend the festival, a Lagavulin 200th Anniversary film has been produced and is available to watch in 3D and 360 degrees with any virtual reality device. It has been designed to transport you to the birthplace of Lagavulin, whilst enjoying a dram.