Neu: Benromach Single Cask 1974
Solche Sonderabfüllungen werde ich Euch auch weiterhin mit Pressemitteilung liefern: eine Single Cask Abfüllung Benromach destilliert im Jahr 1974. Lange vor der Übernahme durch Gordon & MacPhail ins Fass gefüllt, kommen solche alten Schätze in hochwertiger Verpackung auf den Markt. Allerdings auch zu einem stolzen Preis.
Benromach 1974, Cask# 1583, 49.1%, 452 Flaschen, 1.200.- GBP (ca. 1.500.- EUR)
Leider nichts für meinen Geldbeutel. Aber die Tasting Notes klingen spannend. Weitere Artikel und Bilder zu Benromach findet Ihr hier: Benromach auf fosm.de.
Offizielle Tasting Notes
Colour: First, lift your glass to the light and appreciate the beautiful golden amber colour created by lingering for 41 years in a sherry butt as the whisky grew and matured in character.
Nose: Take a short inhalation, savouring the aromas without water… enjoy the opulent sherry influences infused with plump sultana, sharp green apple and zesty orange peel aromas. Underlying all these are rich hints of beeswax polish and menthol.
Taste: Now take a sip. At first, you may taste ripe banana, succulent raspberries and blackcurrants. These develop into hints of dark chocolate, leading to a long and smooth finish. Add a few drops of water and take time to enjoy the nose as it develops… fragrant pear and apricot aromas follow the sherry notes, with developing hints of sweet-sharp candied orange peel and beeswax polish. Now lift it to your lips and enjoy a slow sip… a veritable fruit bowl of bananas, pears and red apples emerges, complemented by hints of charred oak.
Finish: Finally, a superb liquorice and dark praline edge combines with a trace of smoke on the finish. Sublime.
(Pressemitteilung, Benromach)
BENROMACH UNVEILS UNIQUE SINGLE CASK 1974 MALT WHISKY
The Benromach Distillery Company Ltd has today revealed a unique single cask malt Scotch whisky with the launch of Benromach 1974.
Handcrafted using the finest natural ingredients at the Forres distillery, Benromach 1974 is a rare bottle with real heritage and is the perfect dram to pay homage to the history of Benromach.
After 41 years maturing in a sherry butt, Benromach 1974 (ABV 49.1%) is a beautiful golden amber colour with opulent sherry influences infused with plump sultana, sharp green apple and zesty orange peel flavours, with rich underlying hints of beeswax polish, menthol and dark chocolate.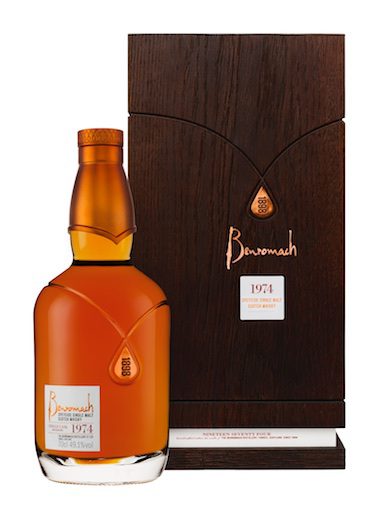 Holding this precious Speyside malt is an evocative decanter-style bottle; the contours of the neck and shoulder line sculpted to represent copper stills whilst a copper-coloured neck collar adds a luxurious touch. The presentation box is inspired by the home of Benromach, also reflecting the copper of the stills in use today, as well as the dark, grained wood of the original washbacks and the white of the lime washed distillery walls. A book accompanies the whisky, delving into the Benromach history as well as providing whisky fans with some fascinating stories about the people behind the whisky.
The limited edition dates back to a time before the Urquhart family brought Benromach Distillery back to life in the 1990s and as Distillery Manager Keith Cruickshank explained, it's a very special dram: "Benromach 1974, cask number 1583, is incredibly rare, as very few casks of Benromach remain from that time. This whisky has matured for many years in a single sherry butt and we have now decided to release it for savouring and enjoying today. For all of us at the distillery, this is a moment to be treasured."
Former Distiller Tom Anderson, who still lives in a cottage at the distillery, was one of the men to witness the filling of the last casks at Benromach, and proudly signed his name on the wall of the filling store. Former malt man and warehouseman, Willie McArthur, was responsible for tending to the precious casks.
Keith Cruickshank, Benromach Distillery Manager, added: "Pour your dram of Benromach 1974 and settle down for an incredible journey through the history of Benromach. This is a whisky for those who take their whisky seriously and want the chance to try something which is particularly special because of its rarity."
There are 452 bottles of the limited edition Benromach 1974 available worldwide at specialist whisky retailers with an RRP of £1200. Prices in international markets will differ due to import duties and local taxes.  For more information on Benromach, and to explore the wide range of expressions available, please visit www.benromach.com.