Whisky School beim Spirit of Speyside Whisky Festival
Dieses Jahr ist es soweit. Ich werde an der Whisky School teilnehmen. Drei Tage Schulbank drücken und dann geht es weiter aufs Festival. Von den Organisatoren gibt es jetzt einen kleinen Einblick zu den vier Gründungsvätern.
Die Whisky School hat eine lange Warteliste, aber dieses Jahr war ich erfolgreich mit meiner Bewerbung und bin dabei.
(Pressemitteilung, SoSWF)
Back to school for lessons in whisky at the Spirit of Speyside Whisky Festival
Imagine a school that is open just three days a year and is devoted to its students' favourite subject, and it is little wonder that there's world wide appeal – and a lengthy waiting list – for the Spirit of Speyside Whisky Festival Whisky School.
It's an experience that couldn't be replicated anywhere else in the world, as only in Speyside, a region which is home to more than half of Scotland's malt whisky distilleries, can you find the unique mix of industry experts, specialist industries and the goodwill that make the whisky school the success that it is.
That's the view of four whisky legends who, with a collective knowledge of 200 years in the art of making whisky, founded the annual school which has become a magnet for dram lovers from all over the globe.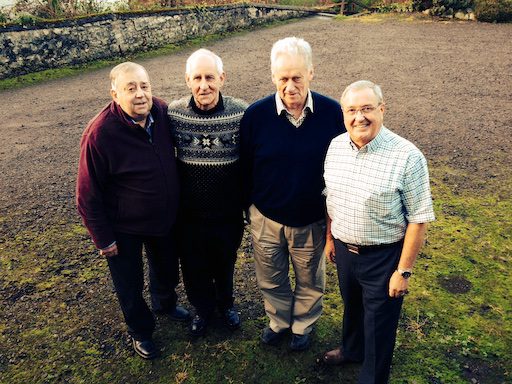 During the comprehensive three day programme, students learn about single malt whisky production from the raw material to the finished product through a series of lectures from industry experts, complemented by site visits.
A love of whisky knows no boundaries, with past pupils coming from Australia, Austria, Bahrain, Belgium Canada, China, Denmark, Germany, Hong Kong, Ireland, India, Israel, Liechtenstein, Lithuania, Myamar, Netherlands, Norway, Qatar, Poland, South Africa, Sweden, Thailand and the USA, and of course the UK.
Despite the mix of nationalities, culture and language differences have never been a barrier, with a shared devotion to whisky serving as one of the best ice breakers around.
Students are drawn from all walks of life – couples, the retired, a bush pilot, paratrooper, doctor, even industry professionals with a thirst for tapping into the specialist insights on offer, are among graduates.
The majority sign up because they want a deeper appreciation and understanding of whisky; some even come with a vision of setting up their own distillery.
The school's founding fathers Ed Dodson, Dr Tim Dolan, Charles Smith and Peter Warren got behind the venture in order to give something back to an industry which has been good to them.
They've found that same generosity of spirit across Speyside when seeking lecturers, venues to visit and other support for the school. Industry experts freely give of their time, and firms are happy to open their doors and welcome scholars to their venues, explains Peter Warren, who continued a four-generation family association with distilling, holding senior management positions and still working on a consultancy basis.
"The whole industry supports us, and everyone involved volunteers their time," Mr Warren explains. "Like us, there's a feeling that people want to give something back to the industry that they enjoy."
Charlie Smith's lengthy career in whisky management saw him work both in his native Speyside and other parts of Scotland. Mr Smith is adamant that for a complete grounding in whisky production, nowhere comes close to the experience offered on Speyside.
He says:  "Speyside is the only place with the facilities that allow the school to reinforce what's been taught in lectures with site visits. You just cannot replicate that anywhere else in the world."
The exclusive school has places limited to just 18 in order to ensure students derive maximum benefits.
Dr Tim Dolan has extensive academic and industry experience which as well as management included teaching, coaching and lecturing. He says that although the whisky school could attract many more pupils, its protected size delivers better learning opportunities.
"Small is beautiful," says Dr Dolan, "and the essential thing is to give the right experience, for students to be able to speak to lecturers and ask questions, and because space can be restricted on technical visits."
Outgoing whisky school director Ed Dodson worked in the Speyside whisky industry for more than 40 years, retiring as manager at Glen Moray Distillery in Elgin in 2005, and has reflected on the whisky school's success.
"We have people who are genuinely interested in discovering the art of producing Scotch. The big attraction is gaining a more detailed knowledge of production than can be obtained by just visiting distilleries or reading about it. Contact with the speakers and having questions answered in detail is important for the students. There's always been international appeal and the main interest comes from the Scandinavian countries and Canada and USA. There's been more interest from Asia in the last couple of years. I feel that it is the range of subjects covered by eight lectures, each presented by specialists and backed up with excellent technical visits is what makes this school unique. There are other excellent whisky schools but we are in the fortunate position of having different distilleries, a malting, coppersmith and cooperage to visit as a follow up to the lectures. Being part of the festival makes it even more appealing."
Mr Dodson's invaluable contribution to the whisky school has been lauded by festival organisers as he steps down from the role of director, to be succeeded by another whisky industry stalwart, Eric Walker.
James Campbell, chairman of the Spirit of Speyside Whisky Festival says: "The whisky school is a real asset to the festival, whetting a thirst for knowledge about whisky production from people from all over the world. It is due to Ed and his associates that it has been the overwhelming success that it is, retaining its appeal and popularity over the years. Ed has been a great supporter of the whisky festival in many other ways too, and it is due to people like him who have enthusiasm and knowledge alongside experience and contacts in the industry that we are able to deliver events that satisfy the desire to learn, savour and enjoy whisky  among aficionados from all over the globe."
While the 2016 School is fully booked and the waiting list for 2017 is full, there are many other ways to appreciate whisky during the Spirit of Speyside Whisky Festival which takes place from April 28 to May 2.
Speyside contains over 50 of Scotland's malt whisky distilleries and the vast majority of them will be staging events during the Festival, including many that are not usually open to the public. Visitors can choose from over 400 events encompassing everything from whisky tasting and distillery tours, food events, music, comedy and cultural heritage.
Information about the 2016 Spirit of Speyside Whisky Festival can be found on the website www.spiritofspeyside.com where tickets will be on sale from early February. The Festival is also active on facebook.com/WhiskyFestival  and on Twitter and Instagram at @spirit_speyside.