Prinz Charles besucht Islay
Vielleicht habt Ihr es schon mitbekommen: Prinz Charles hat am Freitag (26.06.2015) Islay erneut einen Besuch abgestattet. Neben Laphroaig hat er auch Ardbeg besucht, da beide dieses Jahr 200-jähriges Jubiläum feiern.
Angekommen ist Prinz Charles mit einem Hubschrauber. Wie auch schon auf anderen Bildern zu sehen war, gab es wohl ausreichend Regen. Von Ardbeg hat mich zu dem Besuch eine Pressemitteilung erreicht mit ein paar Hintergrundinfos.
(Pressemitteilung, Ardbeg)
Ardbeg Distillery and the community of South Islay welcome His Royal Highness, The Duke of Rothesay to Islay on the occasion of the Distillery's 200th Anniversary
His Royal Highness The Prince Charles, Duke of Rothesay, visited the Ardbeg Distillery home of Ardbeg Islay Single Malt Whisky on Islay today (Friday 26th June).
During his visit The Duke learned from Michael Heads, Distillery Manager, how the Distillery has been celebrating 'the past, present and future' of the Distillery in its 200th Anniversary year. The Duke was also shown the 'Artbeg' exhibition and heard about the Distillery's plans to support the South Islay community with The Kildalton Project through its partnership with His Royal Highness's charity, The North Highland Initiative.
His Royal Highness also met other community groups and local businesses working with the Distillery. On his departure Marc Hoellinger, President and Chief Executive of The Glenmorangie Company who accompanied The Prince on the visit, presented him with a bottle of Ardbeg Kildalton Whisky launched to support His Royal Highness's Initiative in its objective of promoting and strengthening the people, places and products of the rural areas of Scotland, such as Islay. This is well represented in the project, known as The Kildalton Project, which is the development of a modern community hall in Port Ellen which is being progressed in collaboration with the South Islay Development charity and St. John's Church.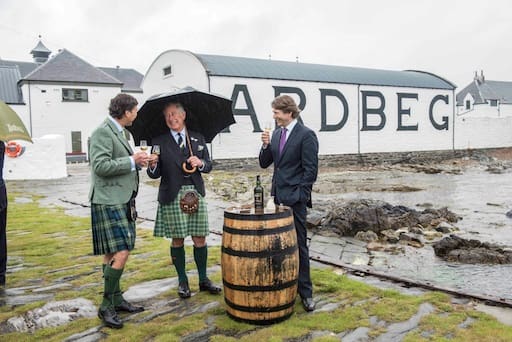 Mr Hoellinger said: "This is a very exciting time for Ardbeg. Since the renaissance of the Distillery in 1997 Ardbeg has acquired a hugely passionate following amongst malt whisky aficionados across the world. This success and the hard work of all involved in Ardbeg means that today there are 38 full and part-time posts at the Distillery, making a valuable contribution to the community and economy of South Islay. Ardbeg Distillery with its Old Kiln Cafe and Restaurant is a vibrant meeting place both for whisky fans and the local community; and we look forward to extending this 'community spirit' further in the months and years to come – supporting the people of South Islay with the development of a much needed new gathering place in Port Ellen.
'The visit of His Royal Highness to Ardbeg gives great encouragement to the staff of the Distillery, their families and the wider Islay community.'