Glenmorangie: The Tayne – mit Tasting Notes
Nicht im normalen Handel, aber im Duty Free gibt es den Tayne, wie Glenmorangie heute offiziell auch in Deutschland bekannt gibt. In der 1 Liter Flasche und in Amontillado Fässern nachgereift gibt es den Tayne demnächst auch bei uns.
Glenmorangie, The Tayne, Finish: Amontillado, 43%, ca. 70-80.- EUR
Leider kältefiltriert. Probieren konnte ich ihn selber noch nicht, aber die offiziellen Tasting Notes habe ich für Euch. Der Duthac kostet auf deutschen Flughäfen ca. 74.-.
Original Tasting Notes
Colour: light mahogany
Aroma: this fragrant and floral single malt contains hints of rose and roasting chestnuts, which give way to muscovado sugar, coffee and chocolate-coated raisins
Taste: An oily warming texture leads to tastes of toffee, brown sugar and tropical fruits
Finish: eventually yielding to a long, spicy finish with bitter-sweet citrus and dried fruits.
Die Legends Collection
Rund um die Gegend der Glenmorangie Distillery gibt es viel Geschichten und Legenden. Von diesen Geschichten inspiriert wurden die Single Malts dieser Reihe nach der Essenz der einzelnen Erzählungen benannt. Die erste Abfüllung in dieser Reihe war Duthac. Tayne ist die zweite.
Die Geschichte vom Tayne dreht sich um ein Schiff der spanischen Armada, das in der Nähe von Glenmorangie gesunken ist. Tayne Firth hieß der heutige Dornoch Firth zu dieser Zeit: "The 130-vessel Armada set off from Spain in 1588 on the orders of King Phillip II of Spain, as part of an ongoing feud with Tudor England. The Armada was to bring an invasion force to England's shores, but en route, the heavy galleons were attacked by the English in the English Channel and cut off from friendly ports in mainland Europe. Fearing the worst, they turned for home, via Scotland and the North Sea. But, after reaching the north of Scotland, the Armada's voyage reached crisis point. Without reliable charts and facing hostile winds and currents, many ships were driven ashore or wrecked on the west coast and in the Western Isles of Scotland. Of the 30,000 soldiers and sailors who had set off from Spain, only 10,000 returned home. "
(Pressemitteilung, Glenmorangie/Moet)
Glenmorangie Tayne glimmers with Spanish treasure
— Distillery innovates with amontillado for travel retail Legends Collection —
Tain, 27-01-2016. The latest release in Glenmorangie's Legends Collection, Glenmorangie Tayne is an innovative single malt finished (extra matured) in amontillado sherry casks which recalls the Spanish heritage of the story from which it is inspired. Hinting at Spanish riches in every dram, Glenmorangie Tayne evokes the legend of a lone, treasure-laden galleon – once part of the mighty Armada – which sank long ago, near Glenmorangie's Scottish Highland home. Glenmorangie Tayne is available from December 2015 in travel retail outlets around the world.
The Legends Collection is a unique selection of single malts which capture the spirit of those stories in which the Distillery's Highland surroundings are steeped. Glenmorangie Tayne, the second release in the collection, is named after the ancient waterway of the Tayne Firth, now known as the Dornoch Firth, where the fabled galleon is said to have sunk. Although the vessel's treasure has never been found, the legend lives on in the land which has homed Glenmorangie since 1843 – and in the floral, fragrant character of Glenmorangie Tayne.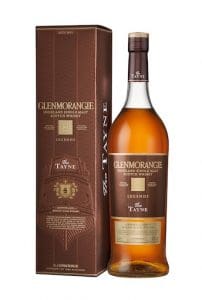 The Spanish Armada, of which this galleon was part, set sail from Spain in 1588, some 130 vessels strong. Without reliable charts to navigate the perilous waters off Scotland's coast, and battling storms, the Armada foundered. According to local lore, one vessel broke off from the fleet, seeking safety in the Tayne Firth. It ran aground on a sandbank and was dragged into the depths with its treasure.
Dr Bill Lumsden, Glenmorangie's Director of Distilling and Whisky Creation, said: "Inspired by the legend of Spanish gold which, perhaps, still lies on the sea bed, Glenmorangie Tayne is finished in casks which once held amontillado sherry. This single malt is a surprising harmony of deep, spicy sherry cask notes and unusually fragrant top notes of rose and roasting chestnuts, with an oily, warming texture and a long, spicy finish. It pays homage to that fabled galleon and to all those who, like us at the Glenmorangie Distillery, are inspired to navigate unchartered waters in search of the unknown."