Updates vom Spirit of Speyside Whisky Festival
Lange habe ich nichts mehr vom SoSWF berichtet und so haben sich ein paar Informationen angesammelt, die ich Euch nicht vorenthalten möchte. Dem Chairman James Campbell wurde eine besondere Ehre zu Teil: Keeper of the Quaich. Das Festival hat einen neuen Manager: John Blyth. Und die Abfüllungen für die Whisky Awards sind ausgewählt.
(Pressemitteilungen, SoSWF)
James Campbell – Keeper of the Quaich
Spirit of Speyside Whisky Festival chairman recognised with Scotch whisky industry's top honour
The chairman of the Spirit of Speyside Whisky Festival has been honoured for his outstanding commitment to promoting Scotland's national drink. James Campbell, a volunteer who has been chairman of the Festival for the past five years, has been inducted as a Keeper of the Quaich – one of the industry's top honours.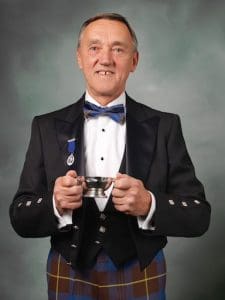 Mr Campbell was one of very few inductees at the ceremony not to be employed by a distiller – and is only one of a handful of Keepers who does not work directly in the industry. He is the first chairman in the event's 19-year history to receive the honour.
With a background in accounting, Mr Campbell gives up his spare time to work on the Festival, which is one of the biggest events of its kind in the world. Over the past five years he has steered it towards further international recognition, increasing the number of global visitors attending the five-day event.
The Festival now includes an even greater number of partners from venues across Speyside, who host innovative and interesting events showcasing the region's most famous product for both connoisseurs and those who are new to the amber nectar.
A limited number of people are inducted as Keepers each year to honour those who have made an exceptional contribution, and they are nominated by key professionals in the industry. The citation read out at the ceremony at Blair Castle stated, "In 2012, James was appointed chairman of the Spirit of Speyside Whisky Festival which celebrates the local whiskies, along with music and food. Under James' leadership the Festival has expanded its vision and impact to become a leading example of its kind. Each May, around 50 distilleries throughout Speyside collaborate to create a diverse, varied and imaginative programme which draw visitors from over 40 countries to the area. James has overseen the development of the Spirit of Speyside Whisky Awards and Whisky School."
Over 2,600 people from more than 100 countries have received the honour of becoming a Keeper of the Quaich – named after the traditional two-handled drinking cup. New Keepers are inducted at a private ceremony held twice a year.
James says, "It is a real honour to be inducted as a Keeper of the Quaich, but I feel this is not recognition for the role that I alone have played. This recognises the efforts by all our volunteer directors since the early days of the Festival, as well as the staff and dozens of partners who all work tirelessly to make the Festival one of the best events of its kind. What makes the Spirit of Speyside Whisky Festival stand apart from other events is the unique opportunities that exist to visit distilleries not usually open to the public and to meet people, such as master distillers and distillery managers, who play a key role in producing Speyside's whisky. That does not happen anywhere else but Speyside and it is only as a result of the commitment and passion of the industry and the local community. Without these people there would not be a Festival, and for that we have to be incredibly grateful."
Festival director Ann Miller adds, "James has been an exceptional leader throughout the five years that he has been chairman, bringing people together to work together for the benefit of the Speyside area. He has also shown great vision in growing the Festival, from the inception of international judging sessions for the Spirit of Speyside Whisky Awards to the launch of our autumn mini-festival, Distilled, to try and encourage a new, younger audience to develop an interest in Speyside's food and drink."
Herzlichen Glückwunsch James!
John Blyth – Festival Manager
International visitor growth targeted as Spirit of Speyside Whisky Festival appoints new festival manager
One of the world's biggest whisky festivals has appointed a new manager to steer it through the next phase of its development. John Blyth will take over the helm of the Spirit of Speyside Whisky Festival next month, and will be tasked with introducing the event to an even bigger audience at home and abroad.
John, who latterly worked in marketing and events in the financial services sector, joins the Festival as it prepares to expand its international reach and grow its fledgling mini-festival, Spirit of Speyside: Distilled.
He has extensive experience in delivering consumer events, having delivered one of the UK's biggest retail event programmes for Royal Bank of Scotland, engaging with over 1.5m branch customers at a series of 700 events nationwide.
Part of that role saw him spend time in whisky country, relaunching the new-look Royal Bank of Scotland branch in Elgin and the Moray Rambler mobile service which visits some of the most rural communities across the area.
John, from Penicuik in Midlothian, has developed a considerable passion for whisky outside his career, having visited over 80 Scotch whisky distilleries – including 29 in Speyside – over the past eight years.
A graduate of the popular John Lamond Whisky Trail Certificate Course – the world's first Scotch whisky evening class – he also shares his knowledge about Scotland's national drink by delivering tasting events.
"Whisky has been a part of my life for as long as I can remember," says John. "I always knew it was a special occasion when Dad got a bottle of malt out to share among family and friends: it was always held in such high regard and I couldn't wait until I was old enough to drink it. I may have started out as an amateur enthusiast, but as that interest has developed so too have my aspirations to become something of a whisky expert. Even those with a very basic knowledge of Scotch whisky know that the true spiritual home of this drink is in Speyside, and I am both honoured and excited to be joining the Spirit of Speyside Whisky Festival team at such a critical stage in its development. Scotch whisky has grown in popularity both in the UK and overseas in recent years, and there has never been a better time to capitalise on that interest and to draw even more visitors to the Festival to learn about the region's outstanding product. I am very much looking forward to working alongside the volunteer board of directors to help grow the event's reputation as the nation's preeminent whisky festival for both aficionados and those with a passing interest in the drink."
John's combined passion for whisky and for Scotland made him the ideal candidate to take over the vacant manager position, says Festival chairman James Campbell.
He adds, "The board wanted to appoint a manager who could display a strong track record of successfully managing multi-partner projects, and who could deliver the board's vision for international growth. The Festival has now been running for 20 years, and in that time it has changed beyond all recognition.  While the key foundations of celebrating whisky and educating people about Speyside's fantastic products will always be at its core, we can now see the impact the Festival has beyond the local area. We launched our first ever international judging sessions for the Spirit of Speyside Whisky Festival Whisky Awards for the 2017 event. That saw judging sessions managed by the Festival team visit three overseas locations, and there are plans to increase that significantly in 2018. We are welcoming more international visitors to the Festival than ever before, and we firmly believe there is significant opportunity to further grow that market. We have also launched our late summer Spirit of Speyside: Distilled event – a mini-festival focused on Speyside food and drink – which is introducing audiences in Scotland and around the UK on the huge range of quality local products."
Viel Erfolg John bei dieser Herausforderung!
Whisky Awards
Das Tasting Panel des Festivals hat die Kandidaten für die Festival Awards in einem Blind Tasting bestimmt.
Die Kandidaten im Überblick
Non Age Statement

Glen Moray Classic Chardonnay
The Glenlivet Nàdurra Peated

12-year-old and under

Strathisla, 12yo
Glenfiddich, 12yo

13-20-year-old

Aberlour, 18yo
Glen Moray, 18yo

21 years and over

Cragganmore, Special Release, 25yo
Glenfiddich, 21yo
Weitere Informationen
The tasting panel of industry experts with specialisms in distillation, mixology and marketing have shortlisted their favourite drams in the annual quest to find the best malt produced in the Speyside region.  But it will be the whisky loving public – from all over the world – who will have the final say and will select the winning brands at blind tasting sessions taking place overseas as well as in malt whisky's spiritual home of Speyside.
In the Non Age Statement category, Glen Moray Classic Chardonnay and The Glenlivet Nàdurra Peated will go head to head.
12-year olds from Strathisla and Glenfiddich are contenders in the 12-year-old and under category.
It's 18-year olds from Aberlour and Glen Moray that will be vying for top honours in the 13-20-year-old category.
Finally, after much deliberation, Cragganmore Special Release 25-year-old and Glenfiddich 21-year-old have been chosen to battle it out in the 21 years and over category.
The panel of whisky expert judges revealed their choices after much debate, discussion and deliberation – but the winners will be determined by the public at a series of judging sessions taking place in the run up to and during the Festival from May 3-7 next year.
Details of the locations for both the international judging and Speyside judging events will be announced by Festival organisers in the near future. As the Awards continue to grow, the Festival plans to roll out this year's international whisky awards to a number of cities in North America and Europe as well as in the UK.
Spirit of Speyside Whisky Festival director Julie Fraser, who organises the awards, says the experts were kept completely in the dark as to which malts they were sampling but are confident that the public will approve of their choices.
Julie added: "This has to be a blind taste test because we don't want the judges to be influenced by any brand loyalty or past tastings. Now that we have the shortlist, it's down to the public to ultimately decide which one of our finalists will be crowned overall winners in the judging sessions, which are also in the form of blind taste tests. We had some of the country's top whisky experts on our panel, and there was a lot of passionate discussion about all of the entries. What was clear was that the standard in all age categories was excellent, and that Speyside continues to raise the bar and produces some of the best quality whisky in the world."
The whisky awards are sponsored by Forsyths of Rothes – the coppersmiths responsible for building many of the pot stills in which the shortlisted single malts were distilled.
The final judging session and awards prize-giving will take place during the Festival.
The Spirit of Speyside Whisky Festival is one of the world's biggest whisky festivals, giving people from across the globe the opportunity to appreciate Scotland's national drink. The five-day celebration of the amber nectar includes a packed programme of events involving food, music, heritage and crafts alongside a wide range of distillery tours and tastings from some of the biggest names in Scotch whisky.
Ausblick auf 2018
Tickets for all events in the 2018 Spirit of Speyside Whisky Festival programme, including the judging sessions, can be bought via the website – spiritofspeyside.com – from Tuesday 6th February 2018. Keep up-to-date with the Festival on social media – facebook.com/WhiskyFestival and @spirit_speyside on Twitter and Instagram.