Tomatin veranstaltet Halloween Fright Night
Tomatin hat sich dieses Jahr zu Halloween etwas ganz besonderes ausgedacht. Sehr kreativ! Bin gespannt, ob das zum neuen Trend wird.
Die haben sich echt etwas einfallen und haben sich ins Zeug gelegt. Respekt!
(Pressemitteilung, Tomatin)
TOMATIN DISTILLERY SHOWS DEAD-ICATION TO LOCALS WITH FIRST FRIGHT NIGHT
The Highland distillery hosted their first hair-raising Halloween Fright Night on Friday with the staff transforming in to a horrifying hoard of ghosts and ghouls for the event.  The first of its kind in the Highlands, the event aimed to engage the local community and show the distillery in a new eerie light.
Jennifer Masson, Marketing Manager commented: 'With the majority of staff living on site in the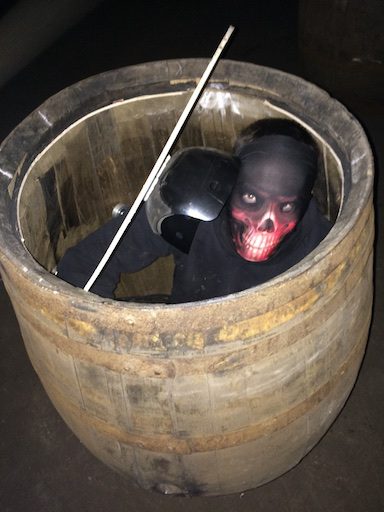 grounds of the distillery, we've always had a focus on our people and they are at the heart of everything we do with generations of the same families working side by side.  We wanted to hold an event with a difference using our own staff for an authentic, spooky tour.  In recent years we've worked hard to increase brand awareness within the local community so this was the perfect opportunity to get everyone involved and grow our presence in the area.  Awareness of the brand has certainly increased in the past year with our recent win for best drink at the Highlands and Islands Food and Drink Awards and the SCDI award for excellence in international business but local events are key to community engagement. Whisky often has a serious image and we wanted to inject a bit of fun back in to the industry!'
The tour took the brave visitors through the malt barns into the mash house, through the Stillhouse around the Cooperage and finally into both racked and dunnage warehouses finishing up with a few devilish drams.
The night looks set to become an annual event with sell out ticket sales on the evening and positive feedback from all attendees.