SPEY Cask 27 – Flasche #1 versteigert
Vor Kurzem habe ich über den SPEY Cask 27 berichtet: SPEY Cask 27 1990 – Exklusive Limited Edition mit Tasting Notes. Nun wurde die erste Flasche für 650.- GBP versteigert.
Seit Freitag werden 25 weitere Flaschen versteigert. Leider wird noch nicht verraten, wie teuer die Flaschen auf dem Markt werden, denn mit den weiteren Versteigerungen soll wohl ein angemessener Verkaufspreis ermittelt werden. Somit ist erst nach 10 Tagen klar, wie teuer die Flaschen werden. Aber dann sind nur noch 224 Flaschen übrig.
(Pressemitteilung, Speyside/Tricker PR)
Cask 27 gives up its secrets: bottle number one from Speyside Distillery first distillation auctioned off
The first bottle in a limited edition release of the first distillation from Speyside Distillery has fetched £650 at auction. Bottle number 1 from Cask 27 – the final cask to be filled from the first distillate in December 1990 – was bought by a bidder at the auction room.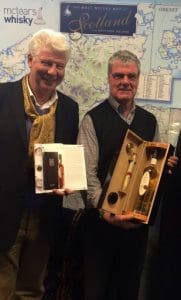 The bottle went under the hammer at McTear's Auctioneers and was bought by whisky enthusiast James Robertson, owner of the Kempock Bar in Gourock, near Glasgow.
Only 249 bottles from Cask 27 now remain. A further 25 of these will be auctioned by McTear's in a 10-day online auction starting on Friday (March 25, 2016) and the remainder will be sold through a network of hand-selected distributors worldwide.
Demand for the rare bottles is expected to be high, particularly in Greater China where the SPEY brand is a household name. There have also been enquiries from Scotch whisky enthusiasts from all over Europe who are eager not to miss out on the opportunity to buy a unique piece of the distillery's history.
Speyside Distillery chief executive officer John Harvey McDonough says. "It was a very emotional experience for myself and our managing director, Patricia Dillon to watch the bidding take place, knowing that we were sharing a very special piece of our history with the world. We are delighted that this historic bottle has found a home, and that it is about to start a new chapter in its life. Whether it has been bought to be enjoyed or to take pride of place on a collection shelf, I am sure the owner will enjoy it."
McTear's whisky specialist, Stephen McGinty, adds, "Over the years McTear's has auctioned some of the world's most exclusive whiskies and there is no doubt the first distillation from Speyside Distillery fits very firmly in this category. Not surprisingly, given the significance of the bottle, there was huge interest in the lot, with collectors at home and overseas ensuring there was lively bidding on the day.   This is a magnificent whisky and we are delighted that it has achieved such a good price at auction."
Speyside Distillery is located in the Cairngorms in the Scottish Highlands and is home to the SPEY brand of single malt Scotch whisky.
The distillery was founded in 1990 by local businessman George Christie on the site of a former grain mill. It took him 30 years to achieve his dream of building a distillery, with the renovation work being undertaken completely by hand over a 30-year period.
Bottles at 55.1% cask strength from American oak casks, Cask 27 is natural colour and non-chill filtered. It is light golden in colour, with a refreshing, delicate aroma of fruits with hints of vanilla and honey. The taste is of subtle vanilla, with a smooth crème brulee flavor. Cask 27 has a mild, fresh citrus fruit finish.
The whisky is presented in a humidor box with hand written label, numbered bottle and is also wax stamped with the wording – 1990 year of 1st distillation. It is completed with a certificate of authenticity signed by the CEO.  The RRP will be set following the 10 day auction.
For further information about sales of Cask 27, contact Karenann Lyon at  Speyside Distillers Co Ltd on 0141 647 4464 or Karenann@speysidedistillers.co.uk More information about Speyside Distillery is available at www.speysidedistillery.co.uk. Follow the distillery on Twitter @SpeySingleMalt and on Facebook at facebook.com/speysidedistillery