PR: Erster Whisky erhältlich – Nc'nean Ainnir
Es ist soweit! Der erste Whisky aus der Nc'nean Distillery ist seit heute offiziell erhältlich: Nc'nean Ainnir. Ich wollte die Destillerie dieses Jahr besuchen und schon mal probieren, aber meine Schottlandreise ist leider ausgefallen. Ich habe mir eine Flasche bestellt und bin schon sehr gespannt!
Im Überblick – Nc'nean Ainnir
Nc'nean, Ainnir, 60.3%, CS, ncf, nca, 1.320 Flaschen, 99.- GBP
ncf = no chill-filtration (keine Kältefiltration), nca = no color added (ohne Zusatz von Zuckerkulör), CS = Cask Strength (Fassstärke, hier "batch strength")
Auf der Webseite finden sich auch detaillierte Informationen zur Zusammensetzung der ersten Abfüllung:
Cask 66 – STR-Red Wine Cask
Toffee, toast and jam with drying spice. Complexity.
Cask 92 – STR-Red Wine Cask
Caraway rye bread and blackcurrant. Body and sweetness.
Cask 120 – STR-Red Wine Cask
Apricots and porridge. Richness.
Cask 128 – Ex-Bourbon Cask
Really clean, sharp lemon and a little sandalwood. Brightness.
Cask 130 – Ex-Bourbon Cask
Creamy lemon and stone fruit, with a herbal complexity. Perfect example of distillery character.
Ein wenig Hintergrund zur Destillerie: Ncn'ean Distillery hat still und heimlich die Produktion begonnen (neben ein paar Bildern auch die richtige Aussprache des Destillerie Namens – von Annabel höchst persönlich. Der Apostroph wurde zwischenzeitlich verschoben).
(Aus dem Newsletter)
It's whisky time – Nc'nean Ainnir
The moment we've all been waiting for. The reason we've been beavering away for the last few years. The mission we've been putting our life and soul into for just short of a decade. When Annabel left her job in the city back in 2013, her dream was to create a modern, sustainable whisky from Scotland. And that dream has just become a reality.  
Ainnir means 'maiden' in Gaelic, and not only represents our first bottling but also Neachneohain, the queen of spirits and ancient goddess who inspired our name. Our maiden bottling is made up of five hand-picked casks from our early distillations, to create a light and fruity spirit with hints of citrus, peach, apricot and spice. The combination of these casks showcase everything we love about our Single Malt; incredible texture, approachability, and complexity. We could not be more delighted with how delicious it tastes and cannot wait to hear what you think.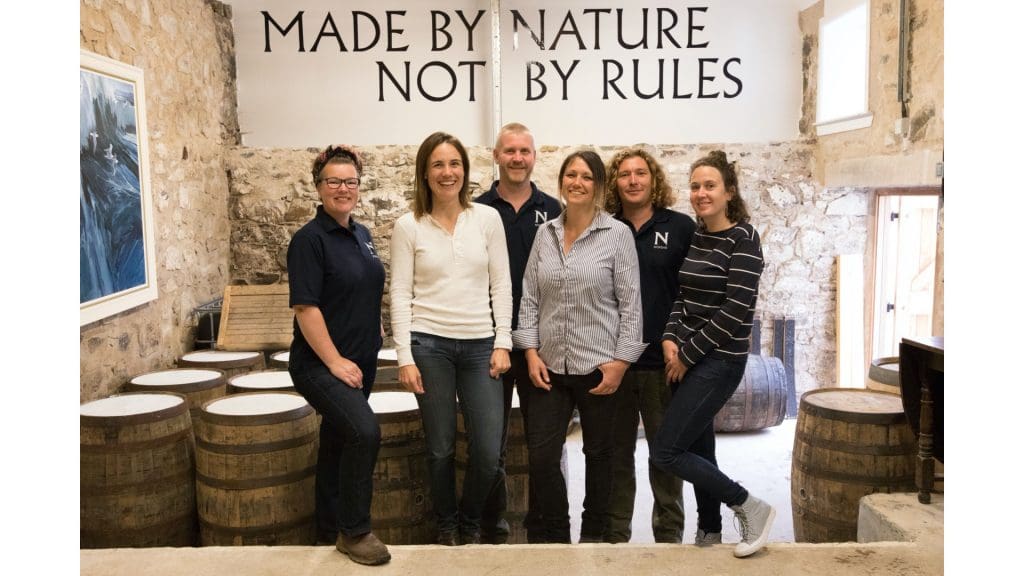 Each of the 1,320 bottles of Ainnir is individually numbered and bottled at cask strength (60.3%), and is not chill-filtered or coloured. Click here to place your order (for dispatch by the end of August). 
The process began with our distillery manager, Gordon, and his team selecting a range of the best casks from our warehouse, based on distillery notes, cask variety and position. Samples were taken from each of the casks to be tasted by Annabel and the team.
 
Each cask had developed its own unique balance and flavour which meant that a couple were ready as single casks, and some were earmarked for longer maturation, but the majority were suitable for blending trials. For Ainnir, we were looking for a good representation of distillery character and complexity of flavours, as well as balance and approachability, even at cask strength. 
Bottles 1-10
We will be auctioning bottles numbered 1-10 of our maiden bottling next week, with all the proceeds going to charity. If you want to get your hands on one of the first 10 bottles ever filled at Nc'nean, look out for an email from us next week with more info.