Ardnamurchan – vor dem Whisky kommt der Spirit 2016 AD
Mit ein wenig Hilfe habe ich jetzt die passende Pressemitteilung erhalten und kann Euch ein paar mehr Hintergrundinformationen zur ersten Abfüllung von Adelphi's Ardnamurchan Distillery geben.
Ardnamurchan Distillery
Die Ardnamurchan Distillery (AD) liegt an der Küste des Loch Sunart und bezeichnet sich selbst als "Scotland's greenest distillery". Gegründet 2014 wird sie als erste Destillerie in Schottland zu 100% mit lokaler erneuerbarer Energie angetrieben und geheizt. Holzpellets für die Wärme und Wassergeneratoren (aus demselben Fluss kommt auch das Kühlwasser her) für den Strom. Alle Abfallprodukte bleiben auf der Halbinsel als Tierfutter und Dünger.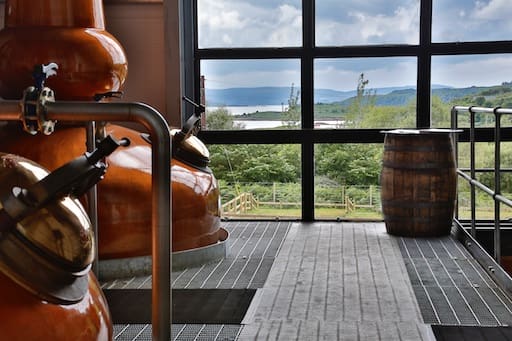 Produziert wird peated und unpeated. Gelagert wird vor Ort in ausgesuchten ex-Sherry casks (amerikanische und spanische Eiche) und ex-bourbon casks (amerikanische Eiche).
Das Visitorcenter haben bereits 12.000 Gäste besucht. Ich habe es leider noch nicht geschafft, denn die Destillerie ist ein wenig abgelegen.
Ardnamurchan Spirit 2016 AD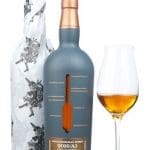 Der Spirit 2016 AD wurde aus 29  first fill ex-Oloroso und Pedro Ximenez Sherry octaves (55 litre)  mit peated und unpeated Spirit aus dem Juni 2015 und Oktober 2014 gemischt. Anschließend wurde der Spirit weitere drei Monate in ex-Pedro Ximenez Sherry butts (500 litre) "verheiratet".
In UK ist der UVP 47.50 GBP für die 0,7 Liter Flasche mit 53%.
(Pressemitteilung, Ardnamurchan)
SCOTLAND'S GREENEST WHISKY DISTILLERY CELEBRATES AS FIRST RELEASE SELLS OUT THREE TIMES OVER AMID 'OVERWHELMING' DEMAND
One of the country's newest and greenest distilleries is celebrating after pre-orders for its very first batch of mature spirit vastly exceeded the number of bottles produced.
Independent bottler and distiller Adelphi said it had decided to release its Ardnamurchan Spirit 2016 AD due to high interest and the spirit's "remarkable" quality, producing just under 2500 bottles.
Adelphi said it had received orders for three times that amount, despite the spirit being too young to be called whisky.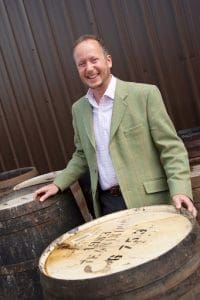 Alex Bruce, Managing Director of Adelphi and the Ardnamurchan Distillery, said: "Prior to a launch we contact our UK and international agents and distributors to gauge interest and take pre-orders. While it's not unusual for there to be a healthy amount of interest in our whisky, the demand for our new Ardnamurchan Spirit was exceptionally high. We've produced 2500 bottles but we could have easily sold three times that amount. Pre-orders were 7500 at the last count."
Ardnamurchan Spirit 2016 AD is the first to be released from Adelphi's west coast Ardnamurchan Distillery, which was opened by HRH The Princess Royal on the 25th July 2014.
Mr Bruce said the 2016 AD had been vatted from carefully selected casks that had been maturing in Ardnamurchan since production started. These were then left to "marry" for three months in large sherry butts. Just under 2500 bottles of the spirit were produced. Legally, a spirit can only be called whisky after it has been aged for three years.
He said: "Released as a one-year-old, our Ardnamurchan Spirit 2016 AD has a remarkable nose, taste and deep colour for its age. The quality of it is superb. It has a dense, sweet nose of Acacia honey and salted caramel; a mouth filling texture of minty toffee and a maritime, smoky richness with a kick of chili pepper; licorice and eucalyptus combine with vivid peat smoke, from a working malt kiln, on the finish."
Claus Fisker of Danish whisky distributor FC Whisky is one of the international buyers who ordered some of the spirit.
Mr Fisker said: "Adelphi have always attracted a lot of interest and demand among our customers because of the way they work and the total guarantee of high quality. When Alex Bruce and Adelphi started a distillery we knew this would be one of a kind. We never tried selling spirit before. We were sure about the quality, but we didn't know the reaction of our customers. It was overwhelming. To be honest it took us by surprise. This shows how strong the brand of Adelphi and Ardnamurchan is."
Mr Fisker said that even though Denmark is a relatively small market for whisky his firm could have sold around 800 of the bottles. "Demand has been wild," he added.
Mr Bruce said the release of the Ardnamurchan spirit signalled a new phase in the company's long history: "Approaching our 25th year of bottling the finest that Scotland can offer, we are delighted to be playing our part in this golden era for the industry. To be able to establish, and be part of, a brand-new distillery is something our dedicated team are extremely proud of. Founded on absolute transparency and traceability, our careful production and maturation techniques have allowed us to capture and bottle this unique flavour profile well ahead of our original plan."
Adelphi said it worked with Edinburgh-based agency Nevis Design to create a bespoke bottle coated in ash/moine (slate grey) to resemble the volcanic past of the Ardnamurchan peninsula, with a hydrometer-shaped window to highlight the natural colour of the spirit.
Copper lettering on the bottle depicts the spirit's provenance – from the barley grown on Broomhall farm in Fife, next to the company's bottling facility, through the unique use of 100% renewable energy sources in its careful production, and the sherry casks for the maturation.
Adelphi's "Dancey Man" is given pride of place on the capsule, and this first release is simply designated by the vintage 2016 and "AD" (for both Anno Domini and Ardnamurchan Distillery).
The Ardnamurchan release follows the recent launch of The Kincardine whisky, which was created in partnership with Fusion Whisky Ltd and is a blend of Scotch and Indian single malt whisky, another innovation from the Fife-based firm.
Danke Femke für den Kontakt!