Alan Winchester feiert 40 jähriges Jubiläum #AskAlanWinchester
Alan Winchester ist der Master Distiller von The Glenlivet. Im Juni 2015 wird er seit 40 Jahren in der Whiskyindustrie arbeiten. Wer über einen Twitter Account verfügt und Alan eine Frage stellen möchte, sollte weiterlesen.
Dieses Jahr findet beim Spirit of Speyside Whisky Festival leider keine Tour auf den Ben Rinnes statt, denn daran beteiligt sich Alan häufig und dort kann man ihm Fragen auch persönlich stellen. Zur Feier seines Jubiläums, hat man sich bei The Glenlivet aber etwas besonderes ausgedacht: über Twitter kann man vom 13.-15.04.2015 Alan Winchester Whisky-relevante Fragen stellen. Alles was Ihr schon immer über Whisky wissen wolltet könnt Ihr mit dem hashtag #AskAlanWinchester auf Twitter posten und mit etwas Glück (oder einer entsprechend interessanten Frage) wird Eure Frage von Alan in einem speziellen Artikel beantwortet.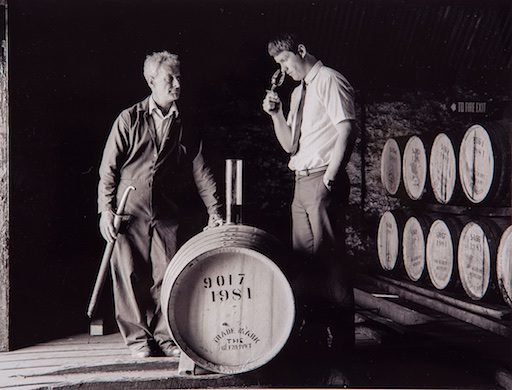 (Pressemitteilung, The Glenlivet)
Alan Winchester: Celebrating 40 years
Alan Winchester, Master Distiller at The Glenlivet since 2009, has guided us unfalteringly through some of our proudest moments – from the Nàdurra range, to the Winchester Collection Vintage 1964. In June 2015 we join Alan in celebrating an impressive 40 years in the whisky industry. In honour of this achievement we invited him to share with us some of the history and wisdom that make him a leading authority on single malt, and an indispensable custodian of The Glenlivet.
Before he could know what an important role it would play, whisky was already woven into Alan's life. His earliest memory is evocative; the smell of distillery grain on his father and grandfather. "Growing up in the north east of Scotland, single malt was such a big part of our culture, passed through our family from generation to generation" he says. And that all-important first taste was given to him by his father. Poured from a square bottle, the malt was watered down, its dark colouring indicating that it had a slight sherry flavour to it. "Sweet and robust," he recalls. With such an astute memory for smell, colour, and taste, it's no surprise that Alan has reached where he is today.
Living in Speyside, many members of Alan's family and community worked for the local distilleries. So when he came to look for work aged 16, the distillery seemed a natural place to start. Alan began his career working as a distillery tour guide, cooperage labourer, and "general dogsbody", until he was old enough to take on some shift work. A role as trainee brewer then led to roles as mashman and stillman, running until his first distillery manager's post at Glenfarclas. Alan's 10 year apprenticeship saw something that began as an interest, develop into a fascination. Always gathering inspiration and expertise from those he worked with, his experiences have served him well in the ultimate role of his career: Master Distiller at The Glenlivet. "Becoming Master Distiller was the greatest moment in my career," he says. "Being a non-family member of the distillery makes it a very great honour to pass through and look after it."
As Master Distiller, it is Alan's responsibility to ensure that each new product reflects The Glenlivet's unique character. Every week, he and members of his team check on the spirit. "Our style must be kept as consistent as possible. We ensure that the same complexities are always being recreated." No matter what type of cask is being used, Alan says, "As a distiller I'm interested in seeing the distillery character shining through – you can play so many different tunes with that fresh, fruity style, and with oak." When asked what he enjoys about the process, the answer is unequivocal; he enjoys everything. "We work hard," he says, "but we do enjoy making whisky. You've got to have a passion." And Alan's ability and passion for the job are evident: he takes pleasure in hearing the mills, the rhythm of the pot stills running constantly, and their bright copper shine, so pleasing to the eye. "I love the smell of the mash," he declares, adding that much like a single malt, "Every distillery has its own unique smell, you can tell a distillery by its nose." The distillery is very much like a living organism, Alan explains, and like a living thing, it must be treated with respect.
Looking to the next 10 years, Alan is very optimistic. He feels the current boom in small distilleries is a positive sign for whisky, but is firm in his belief that larger distilleries are no less dedicated to crafting unique and traditional single malts: "The big guy is still worried about craft and tradition. The passion should be the same, no matter the size of the distillery." Maintaining The Glenlivet's legacy is certainly important to Alan. When it comes to innovating new products he says, "We're always looking for innovation, but without sacrificing tradition. Nàdurra Oloroso is an example of trying something new, but it's still traditional – it's The Glenlivet with its sherry coat on."
Having enjoyed collaborating with lovers of The Glenlivet on the Guardians' Chapter, Alan is keen to interact with whisky drinkers again in the coming years. However, to help celebrate Alan's 40 years in the industry we were keen to offer this interaction a lot sooner.
Therefore, we're giving you the rare chance to put your whisky-related questions to the Master Distiller himself. Simply head to Twitter from April 13th to April 15th and ask your questions using the hashtag #AskAlanWinchester. Alan will select and respond to his 40 favourite questions, which we will release in a special article.
Finally, as we celebrate Alan's wonderful work over the last 40 years, talk naturally turns to a dram of The Glenlivet. And how does Alan take his? "Usually with a splash of water. That's the way I enjoy it." On his choice of whisky, Alan is clear, "There's a The Glenlivet for every occasion. If you come to my house you'll get an 18 Year Old, but the best present to celebrate my 40 years would be a 1975 Glenlivet." From the Master Distiller, that's high praise indeed. Raise a glass with us as we toast Alan's 40 years of incomparable passion and expertise. Slàinte!
Hier findet Ihr das Original: https://www.theglenlivet.com/en-EN/article/alanwinchesterqa