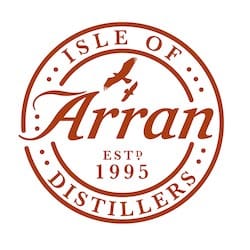 Arran Whisky Festival 2022
Das Arran Whisky Festival 2022 soll wieder vor Ort stattfinden, nachdem es zwei Jahre lang nicht stattfinden konnte. Freitag und Samstag wird das Festival in der Lagg Distillery stattfinden.
The White Stag Dinner – Lagg Distillery – Friday 24th June, 1800 – 2300. £110 per ticket.
The annual White Stag Dinner will kick start the weekend's events on the Friday evening.  We are excited to announce that the dinner will be hosted at Lagg Distillery for the first time ever!
Set in the modern surrounds of the Visitor Centre, the dinner is set to be another fantastic event with great conversation, delicious food and exclusive drams!
You will be welcomed with a drinks reception and go on to enjoy a three-course meal featuring some of the best local island produce.  Specially selected drams will accompany the evening and each guest will take home a commemorative bottle of Single Malt.  Tickets for The White Stag Dinner will go on sale on Eventbrite on Wednesday 30th March at 1100 BST.
Arran Whisky Festival – Malt and Music – Lagg Distillery – Saturday 25th June, 1100-1700.
Entrance is free of charge. Under 18s must be accompanied by an adult. You will have the opportunity to take a short tour of the Distillery, attend a special Masterclass and enjoy our famous whisky bar (cash bar only) where you can try some of our whiskies by the dram, as well as local beers and other refreshments.  Mini tastings in our Dramming Den will be available for those who don't want to take a full Masterclass.
Masterclasses – Lagg Distillery – Saturday 25th June
A full programme of Masterclasses will be available on the day.  The line-up of Masterclass tickets will be sold on Eventbrite from Wednesday 30th March 2022 at 1100 BST.
Lagg Specialities hosted by Graham Omand, Lagg Distillery Manager.
1300-1400.  £40 per ticket.  Limited spaces.
Join Graham, the main man behind the scenes who has played a key part in the set-up of Lagg Distillery – from the initial design of the distillery to the creation of the Lagg spirit which will soon be Lagg Single Malt!  Graham will take you through the history and background of Lagg Distillery with a selection of specially selected drams.  We are sure he will have a few tales to tell!
Whisky and Chocolate hosted by Campbell Laing, Lochranza Tour Guide.
1330 – 1430.  £25 per ticket.  Limited spaces.
Bringing together our own Single Malt from Lochranza Distillery and the finest local handmade chocolates from "James of Arran" this decadent experience is bound to delight your tastebuds!  Campbell, one of our longest serving and much loved Lochranza Tour Guides, recently retired but has agreed to host this tasting for our Festival goers to give him a well-deserved send off!
Blind Tasting hosted by Fred Baumgärtner, Lagg Senior Tour Guide.
1400–1500.  £30 per ticket.  Limited spaces.
Do you have the "Arran knowledge" to join Fred in the Vault for a special blind tasting of a selection of our intriguing single malts?  This will be a fun and laid-back session with a friendly competitive edge to it!
Cask Oddities hosted by the Lagg Distillery Production Team.
1500-1600.  £40 per ticket.
Join the guys from the production team in Warehouse 1 for lots of geeky whisky chat and tasting some of the more unusual expressions straight from casks.  This is a great opportunity to hear all about a "day in the life" of the folk who work at the stills and in the warehouses.  With limited places this one is always a sell-out, so be quick!
Drams and Discs hosted by Mariella Romano and Andy Bell.
1500-1600.  £40 per ticket.  
Mariella & Andy will go head-to-head in a battle between the finest and funkiest whiskies & vinyl.  Each will choose their own whiskies to present and pair them with a special selection of vinyl…the challenge is on!  Good drams, music and whisky chat – what more could you ask for?
Evening Ceilidh – we have taken to decision not to host this year's ceilidh but hope it will return in future years.
The Survivor's Lunch – Sunday 26th June – Lochranza Distillery. £40 per ticket. 
This year's "Survivors Lunch" will be hosted by the team at Lochranza Distillery.  An opportunity to wind down and chill out after some hectic festivities and enjoy some delicious Sunday fayre and drams in a relaxed atmosphere.  Hosted by Stewart Bowman, Lochranza's Distillery Manager along with his special selection of drams – this is a great way to see out the Festival weekend.