Glenglassaugh Rare Cask Series Batch 2
Nach dem Batch 1 im April letzten Jahres, folgt nun das Batch 2 der Rare Cask Series. Die jüngste der acht Abfüllungen ist 36 Jahre, die älteste 42 Jahre alt.
Das sind die acht Abfüllungen:
1972 cask # 2125, 42 yo, Massandra Madeira Puncheon, 47.3%
1973 cask # 1865, 42 yo, Massandra Aleatico Hogshead, 40.5%
1973 cask # 761, 41 yo, Rum Barrel, 41.1%
1974 cask # 1282/1, 41 yo, Rum Barrel, 40.8%
1975 cask # 2180, 40 yo, Massandra Madeira Puncheon, 43.9%
1975 cask # 3171, 40 yo, Pedro Ximenez Sherry Hogshead, 40.2%
1976 cask # 3170, 39 yo, Pedro Ximenez Sherry Hogshead, 40.3%
1978 cask # 1118/8, 36 yo, Port Hogshead, 43.6%
yo = years old
Angekündigt wurden diese als "bald verfügbar". Die Preise dürften bei dem Alter eher auf den gut gefüllten Geldbeutel ausgerichtet sein. Die Verpackung gefällt mir.
(Pressemitteilung, Benriach/Glenglassaugh)
GLENGLASSAUGH RELEASES BATCH 2 OF ITS RARE CASK SERIES
GLENGLASSAUGH has today (December 8) released its second critically-acclaimed batch of single cask bottlings.
Once again hand-selected by Managing Director and Master Distiller Billy Walker, there are eight phenomenal malts in this new batch which range from 42 to 36 years. All casks were bottled in September this year.
The eight single cask treasures uncovered from dark corners of the Portsoy warehouses are classic Glenglassaugh – rich, elegant, sweet Highland malts that hit the palate with complex fruit bombs – from pears to raspberry jam, from yellow plum compote to orange peel, from wild red berries to banana loaf.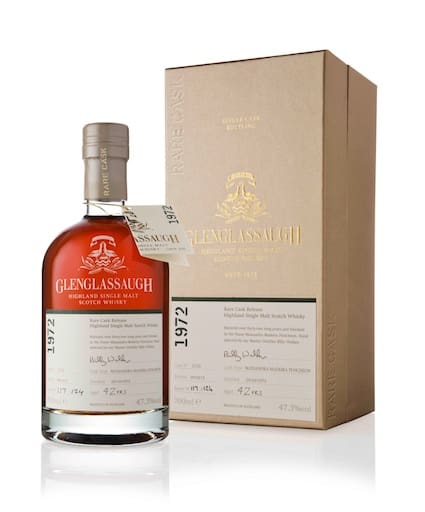 The oldest, cask # 2125, 42 years old, was distilled in October 1972 and finished in a Massandra Madeira Puncheon. Bottled at 47.3% vol, this rich burnt amber veteran is sublime. On the nose, luxurious rich honey infused with allspice floods over roasted apples while, on the palate, crisp toasted oak characters contrast with Madeira poached pears, sultana syrup and a delicate warm spice.
The youngest in the batch is a 36 years old distilled in October 1978 and finished in a Port Hogshead. This burnished copper gold beauty, cask # 1118/8, was bottled at 43.6% vol. On the nose, there is a delicious harmony of wild red berries and milk chocolate with a black pepper spice and vintage leather background. The palate brings beautifully elegant red fruit preserve dusted with sweet vanilla sugar and combines perfectly with warm oak, cinnamon spice and stem ginger syrup.
Sales Director Alistair Walker said: "The BenRiach Distillery Company took over Glenglassaugh distillery in 2013 and we released our first batch of rare casks in April last year. The response on this first batch release was fantastic, with connoisseurs worldwide delighted to get their hands on these aged, extraordinary malts. We are therefore delighted to issue Batch 2 today which comprises another eight magnificent expressions – smooth, warm, characterful and sublime Highland whisky at its finest."
All eight are presented in a beautiful golden box. All eight are available soon at your local retailer.